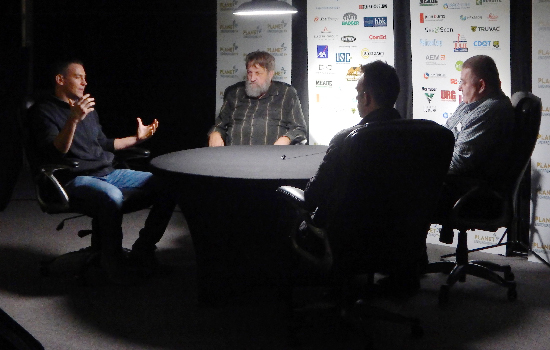 MILWAUKEE – The Roundtable! presented by Planet Underground, is kicking off its first ever appearance at The Utility Expo tackling some of the biggest topics in the underground utilities industry with some of the biggest names.
"We're really proud of what we've put together for these discussions," said Mike Parilac, president and owner of Planet Underground, who is also producing the live demonstration area The Jobsite. "Our viewers and readers in the underground utility world told us what is important to them, and that's what we're bringing them."
The Roundtable! is included with every badge at The Utility Expo and features live, unscripted conversations on eight different topics across the first two days of the show.  Those topics include:
Effectiveness of state damage prevention laws and enforcement
What the future holds for managing our crowded rights of way
Who and who does not view damage prevention as a public safety issue?
The impact of predictive analysis given the state of late response to 811 tickets
What good is permanent location information without a plan to share?
Artificial intelligence in damage prevention
Construction equipment's role in avoiding damages
When do we get to "Zero damages?"
Contractors, engineers, locators, one-call operators, utility personnel, policy makers, and technicians will all sit down to figure out the hot-button issues facing the utility damage prevention world today.
"This is a great group of voices that know their way underground," said The Utility Expo Show Director John Rozum. "I'm looking forward to listening in, as we've seen from past editions of The Roundtable!, the conversations are both informative and entertaining."
The Roundtable! presented by Planet Underground runs from 10 a.m. – 2 p.m. EDT on September 28-29 in Broadbent Arena during The Utility Expo and are free to all show participants.  Pre-registration for the sessions is not required.
About The Utility Expo
The Utility Expo is the largest event for utility professionals and construction contractors seeking comprehensive insights into the latest industry technologies, innovations and trends. The biennial trade show, known for equipment test drives and interactive product demonstrations, takes place in Louisville, Ky. The event will be September 28-30, 2021.
About the Association of Equipment Manufacturers (AEM)
AEM is the North America-based international trade group representing off-road equipment manufacturers and suppliers with more than 1,000 companies and more than 200 product lines in the agriculture and construction-related industry sectors worldwide. The equipment manufacturing industry in the United States supports 2.8 million jobs and contributes roughly $288 billion to the economy every year.