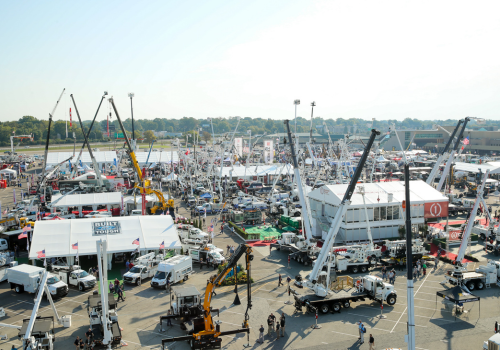 The Utility Expo is back and BIGGER THAN EVER. With 1.4 million square feet of equipment to see and the top manufacturers in the utility industry to meet, there's a lot to see and do!

We asked veteran attendees and our staff to share their best advice for first-timers coming to the show. Here are the top tips you need to know before you travel to Louisville, plus tips for maximizing your time once you arrive. 


1. Plan ahead
Spend some time reviewing the map of the show floor and all of the manufacturers and suppliers who will be exhibiting. (View Exhibitor Directory)
2. Take advantage of flight discounts
Flight discounts are available for everyone on domestic and international flights to Louisville Muhammad Ali International Airport (SDF). (View participating airlines and deals)
3. Book a hotel with free transportation to and from the show
Check to see if your hotel offers free shuttle service to and from the show, saving you money on parking. (View Hotel & Travel Information)
4. Register for an education session
With The Utility Expo's comprehensive education program, discover new strategies and techniques while making lasting connections with your peers in the utility industry. This year we have more education session options than any other year, with field classrooms, engineer sessions, Safety Symposium in association with the American Traffic Safety Services Association (ATSSA), and even more. See our Education page to learn more about the options and how to register for a session. 
5. Know when and where to pick up your show badge
Take advantage of remote badge pickup at the airport and multiple outdoor locations at the show. Be sure you are pre-registered and have a valid photo I.D. to be able to pick up your badge. Locations and times for pick-up can be found here. 
6. Download the official show mobile app
Featuring exhibitor locations, schedule of events, and more, the mobile app is your one-stop location for all the important information you'll want onsite. The mobile app will be released in September and will be available on Apple and Android.
7. Pack for all weather conditions
Mornings can be cool and afternoons can be hot or rainy, but with the right clothes, you'll be ready for anything.
8. Pack comfortable shoes
This is a demo show, so be prepared to get a little dust on your boots and put a few miles on!
BONUS TIP: Make sure to break in those new shoes before wearing them to the show. 
9. Pack a powerbank/an external battery charger
Trust us, you'll be using your phone to take plenty of photos and videos of the awesome equipment and innovations on display. Be sure to bring an additional phone charger so you're not left disconnected. 
10. Dine like a local
Check out this locally-curated list of restaurants from Yelp. Reservations are encouraged, especially for group dining. 
11. Attend The Utility Expo's official street party at 4th Street Live!: UTILITY ROCKS!
Connect with your fellow attendees Wednesday evening for UTILITY ROCKS! This free concert is located at 4th Street Live, one of Louisville's premier dining and entertainment destinations. Grab dinner at any of the local restaurants and end your day on a high note with live music. The Crashers is Louisville's own nationally recognized party band. Enjoy the wide variety of music from country to rock, grab a beer, and you may even get some logoed swag from our sponsors. Hope to see you there!
Wednesday, September 27, 2023  |  8:00PM - 11:00PM  | 4th Street Live! (411 S 4th St, Louisville, KY 40202)
12. Check out the all-new Community Zone
Located in the North Hall Lobby, join us for a comfortable, yet exciting place to rest, recharge, and get a taste of all that Louisville has to offer. Open throughout the duration of the show, the Community Zone will feature opportunities for prize giveaways, phone charging stations, and even a bourbon sampling on Tuesday afternoon. 
13. Operate the equipment
Arguably the best part of The Utility Expo is being able to compare equipment head-to-head and get hands-on demonstrations. Go ahead, get in, and get hands-on with the latest in the industry. 
14. Don't get hung up on just visiting your favorite brands
There are a lot of new technologies and companies to see and evaluate.
15. Be curious
Exhibitors love to share knowledge, answer all of your burning questions and listen to feedback.
16. Snag some souvenirs and swag
Let us tell you, you will get so many freebies and swag! Plan to leave some extra space to bring them back home with you.
17. Follow The Utility Expo on social media for the latest information 
Stay up-to-date on the latest show information, follow us on each of our social channels!
Instagram     LinkedIn     YouTube     TikTok     Facebook     Twitter
18. Subscribe to our email newsletter
Get all the latest news about the utility industry and The Utility Expo 2023 by signing up for the free The Utility Expo newsletter here. 
19. The Utility Expo only comes around once every two years, make the most of it! 
Have fun, make friends, and develop working relationships. The best way to do that is to make every effort to be at the show all three days.
Read Next