Not sure what to get that beloved utility worker in your life this holiday season? Take a look at these products that are sure to be a hit both on and off the jobsite.
Ideal for all seasons, this lightweight sock is built for people who really work. Features include a comfortable seamless toe, reinforced zones for added durability, arch support, a ravel-free top, and extra protection for steel toe boots. The blend includes 35% merino wool to help keep workers warm and dry.
These pants are a great addition to a layered workwear system for those cold winter months. They are 100% merino wool for superior insulation and humidity transportation, helping keep workers warm and dry.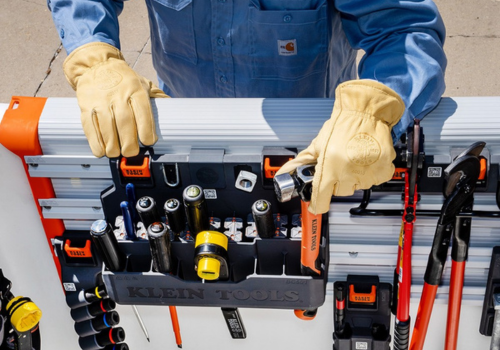 This two-in-one hat can function like a beanie with the face mask pulled below the chin. When it gets really cold out, pull the mask back up. Regardless, utility workers can stay warm and dry thanks to Carhartt's innovative Force, FastDry and Rain Defender technologies.
The SL-MK71000 is a 12-ton dieless indent-style crimping tool. Several unique features make it easy to use, such as Makita lithium-ion battery power, a rotational head, bright-white LED lights, and audible bypass when predetermined pressure is achieved.
Now linemen can have the convenient, efficient and versatile tool storage solution they've always wanted. At the heart of this system is the Bucket Work Center, which easily connects to an aerial bucket. Multiple rails on the bucket wall assembly allow for varied positioning of different storage modules, allowing a lineman to customize their workspace. The Hard Tool Storage Module (shown) has 18 compartments to hold a variety of lineman tools. Rare earth magnets help secure hardware and small tools, while rubber flaps help secure all tools during transport. Additional rail system and S-hook storage modules are also available to help linemen create their perfect office in the air.
This tool allows linemen to make easier and faster fuse cutouts. Two LEDs provide ample halo lighting. Plus, adjustable output levels help keep a fuse adequately lighted for up to 10 hours on one full battery charge. The battery is a REDLITHIUM 3.0AH, providing all-day runtime and 3x faster charge time. It can be recharged in the flashlight via a Micro USB cable, or a utility worker can quickly swap out the battery for a backup if they choose.
This ratcheting box wrench features four sockets in one tool, two on each end, that are commonly needed to work on transmission and distribution apparatus and connectors. Plus, the flex head makes it a lot easier to work in confined spaces. The unique design of the insulating handle provides 1,000-volt insulation, while a see-through port in the center of the handle allows for confirmation that the two ends are not electrically connected.
These tubing cutters are uniquely engineered to make it fast and easy to cut a variety of plastic pipe including PVC, CPVC, PE, PP and ABS. The quick-release trigger on a sliding bar zips open for quick cutter removal. Several models are available, offering coverage for pipes as small as 1/8"-dia. and as large as 10". Pictured is the TC8QP, which is capable of handling 6-1/4" to 10"-dia. pipe.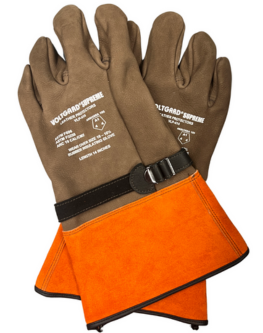 These leather protector gloves are carefully crafted to fit perfectly over rubber insulating gloves, giving linemen the protection, functionality and durability they need. Soft cowhide leather enhances flexibility and dexterity while also resisting cuts, punctures, dirt, oil and moisture. A leather strap and non-melting buckle help secure the glove to the hand. A straight thumb with thumb strap offer added protection in high-wear areas to extend durability.
This hydraulic saw features a unique cutting method designed to give utility workers more control over their cuts, making it faster, easier and safer to repair water main breaks, etc. Ideal for everything from plastic to ductile iron. Safety and accuracy are enhanced by a pipe clamp accessory (sold separately) that fits 4" to 12"-dia. pipe. Simply mount the clamp to the pipe, connect the saw to the clamp, and start cutting. This saw can also be used without the clamp, allowing workers to cut any size pipe.
The TickKey is an easy-to-use tool for removing ticks that are bound to eventually bind themselves to utility workers working in heavily vegetated areas. Simply place the key over the tick so it's within the slot. Slide the key away from the tick while remaining flush to the skin. The tick is removed, head and all. This nifty tool has 10-plus years of proven effectiveness. Offered in a variety of colors, it is sure to make a great stocking stuffer.

The Load-Ranger Flex-LT from Utility Solutions is a lightweight, versatile option for utility workers in need of a load break tool while repairing distribution lines. The 180° rotating head helps reduce, if not eliminate, most binding positions and tool stresses. For added strength and durability, the tool is engineered with heavy-duty, machined components. But that doesn't mean it's heavy and clumsy to use. In fact, weighing just under 5 lbs., the company says it's a full pound lighter than comparable load break tools.
When tromping through heavy growth along roadsides or in ditches, etc., utility workers may stumble upon allergenic flowering plants like poison ivy, oak or sumac from time to time. Zanfel is a nice thing to have in your back pocket. This topical solution is specifically designed to remove urushiol, the toxin that causes a skin reaction. That helps to not only sooth itchy skin, but also allow the skin to start healing.
Subscribe to The Utility Expo monthly newsletter to receive more industry insights like this.  
Read Next
Accessories Every Utility Contactor Needs for the Jobsite
Gifts That Utility Contractors Will Actually Use This Holiday Season