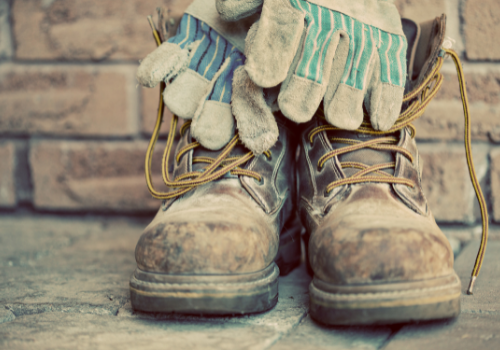 Whether working several feet below ground or 100 feet in the air, power line workers have a challenging job. They can't afford to be wearing inferior lineman work boots that compromise their comfort and safety. Here's a quick rundown of the features to look for in lineman boots, along with some examples of the best lineman boots for working safely and productively.
Features of a great leather lineman boot
First and foremost, utility line workers need a work boot that enhances their safety. OSHA's standard for foot protection, 29 CFR 1910.136(a), requires an employer to ensure that employees wear protective footwear when working in areas that present danger of foot injury due to falling or rolling objects, piercing of the shoe sole, and electrical hazards. When it comes to utility line workers, that's all of the above.
When shopping for leather lineman work boots, look for the proper ASTM stamp of approval. ASTM F2413-18 is a work boot standard that defines requirements for everything from impact and puncture resistance to conductive protection and electrical hazard (EH) resistance.
In addition to being EH-rated, there are some other key characteristics to look for:
Good traction, even in wet conditions
Good for climbing
Taller height (8" to 10") to fit snugly and provide good ankle support
Waterproof
Insulated
Arch support for durability and comfort
Good traction is an essential benefit to look for. With many leading work boots, you'll often hear the phrase "Vibram sole". While there is a fascinating backstory to the Italian company and inventor behind this commonly used outsole, the bottom line is that a Vibram sole offers outstanding tread. Additionally, since it is made of rubber, it is waterproof and more flexible.
Speaking of rubber, sometimes a lineman needs a fully rubber work boot.
Given the importance for specialty footwear for this job, not all work boots are equal.
Work boot technology
Electrical hazard (EH) rating. Boot manufacturers who want an EH rating on their boots send them to the American Society of Testing and Materials, which tests the boots to determine whether they can withstand 18,000 volts of electricity without leakage for 60 seconds. Boots that pass the test will be allowed to bear an EH rating. Numerous unions and companies require their workers to wear boots with an EH rating when at work.
Anti-slip. One of the biggest risks to lineworkers (next to getting electrocuted) are slips and falls. They work at height—either climbing the electrical pole or going up on the boom truck. Outsoles composed of rubber or rubber composites improve traction. For even greater traction, find a boot with lugs, (similar to a soccer player's show).
Work boots can be equipped with steel toes and steel shanks. A steel toe protects the toes from objects being dropped on them. A steel shank, located between the inner and outer soles, protects the underpart of the foot from objects penetrating rubber soles. Steel shanks also help distribute their weight when climbing a pole using climbing gaffs (also called stirrups). OSHA says the steel in the boot poses no threat of electrical shock, so long as the metal isn't exposed, and is therefore, unable to make contact with the electrically charged item or the wearer.
Raised heels. Numerous lineworkers prefer raised heels because they're more comfortable when the worker is on an electrical pole wearing climbing gaffs. Logger boots are designed with raised heels which are embedded with climbing spikes.
Protective layer. Keep your boots in good condition longer by using ones that are built for durability and longer life. For example, a boot with a fake tongue (on top of the real tongue) will protect the real tongue from lace wear. Extra material
Water membrane. Keep feet dry, especially when working near electricity. Boots equipped with a water membrane do that by providing an extra layer that is water-repellant and breathable.
Heat membrane. Depending on the climate in which you work and the season, you may want extra warmth.
You're going to wear the boots all day, and comfort helps improve mood and productivity. Boots can be heavy, especially when they're loaded up with steel toes, shanks, and durable components. Boots with composite toes and use newer, lighter materials are available but are more expensive.
Work boot options
Work boots come in different colors and designs. Choose from a six-inch or an eight-inch, a pull-on or a laced boot, with either a steel toe, an aluminum toe, a composite toe, or with no toe protection.
"All of these options come down to personal preference," says Dylan Richardson, Associate Category Manager of Footwear and Accessories, Peavey Industries LP. (Peavey Mart is a farm and ranch retail banner in Canada offering a unique selection of agriculture, farm and ranch, pet, work wear, lawn and garden, hardware, and homesteading supplies for those who enjoy a down-to-earth rural lifestyle.)
There are many different toe designs and these seriously influence the appearance of the boot. A plain toe (also called a round toe) is formed using a single piece of leather and the toe features no adornments. The square toe features straighter lines than the curvy lines traditionally found on most boots and is a popular design choice for cowboy boots. The cap toe is a popular choice for both work boots and dress boots; these boots feature an extra piece of leather on the toe which forms the "cap" and gives the boot its name. The moc toe features U-shaped stitching adopted from the moccasin shoes worn by Indigenous peoples living in North America; It's also a popular work boot style, as well as casual wear.
"When shopping for boots, I try to find the best value for the amount of technology I'm getting in a boot," says Richardson. "Some people swear by Vibrum and Gortex soles, which are vetted and reputable brands, but you could be paying extra for the name brand when many boots possess similar technology."
Best lineworker boots
There are some tried-and-true boots we've kept from other vendors, that have done really well for us, such as the JB Goodhue Thrasher boots and the Big Bill Original Metal Free, however, we primarily carry DeWalt, Kodiak, STC, and Caterpillar.
"This is one of my favorite boots," says (Richardson). "It's a light safety six-inch boot due to it having an aluminum toe and a composite shank. I find the footbeds super comfortable. This boot looks great and is super comfortable. Its drawback for a lineworker might be the flatter sole, however there is a small spacing in the middle of the boot."
"This one is designed for people with wide feet, which can be hard to find in some cases," says (Richardson). "I also find this boot to be pretty feature rich with both toe cap and heel protection and super comfortable."
This boot has many similar functions to other great boots but has a unique feature. This boot has a multi-use toe with a little section designed with ridges surrounding a flat spot, so you can place stuff on the toe without it moving around, and made sturdy enough to push things around. This is a proprietary design.
"The whole line is great," says Richardson. "However, if I had to pick one, I would pick the STC Whiskey Jack." The Whiskey Jack features a breathable and abrasion-resistant lining with antimicrobial treatment, added tongue and collar allowing extra comfort, composite toe protector, and puncture-resistant insole.
The Hauler is part of Caterpillar's ULTRADUTY collection line. Available for men and women, this waterproof work boot is engineered to function in the toughest environments. It features waterproof, full-grain leather; a nylon mesh lining, a Nylon and PU foam sock liner, and Thinsulate for protection from the elements and comfort.
Subscribe to The Utility Expo monthly newsletter to receive more industry insights like this.  
Read Next
The Best Electrical Lineman Work Gloves
How to Wash Flame-Resistant Clothing