Whether working several feet below ground or 100 feet in the air, power line workers have a challenging job. They can't afford to be wearing inferior lineman work boots that compromise their comfort and safety. Here's a quick rundown of the features to look for in lineman boots, along with some examples of the best lineman boots for working safely and productively.
Safety standards first
Utility line workers need a work boot that enhances their safety. OSHA's standard for foot protection, 29 CFR 1910.136(a), requires an employer to ensure that employees wear protective footwear when working in areas that present danger of foot injury due to falling or rolling objects, piercing of the shoe sole, and electrical hazards. When it comes to utility line workers, that's all the above.
When shopping for leather lineman work boots, look for the proper ASTM stamp of approval. ASTM F2413-18 is a work boot standard that defines requirements for everything from impact and puncture resistance to conductive protection and electrical hazard (EH) resistance.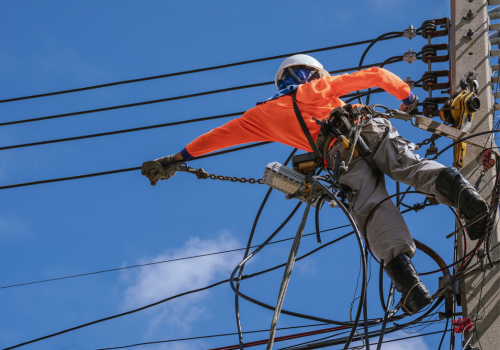 Sometimes a utility company will require workers to wear footwear that meets the ASTM F1117 dielectric standard. This standard requires every boot or overshoe to be tested per the ASTM F1116 method; the boot or overshoe must pass a 20 kV test before it is released. Compliant footwear is considered secondary protection, providing additional isolation or insulation if a worker comes into accidental contact with energized electrical conductors, apparatus, or circuits.
In addition to providing an extra layer of protection, dielectric overshoes provide an additional layer of convenience. Linemen can slip their overshoes right over their regular boots. When removed from the hazardous environment, linemen can pull the overshoes back off and properly store them until needed again. Most linemen would rather spend the majority of their time in their regular work boots. Thus, a compliant pair of overshoes gives linemen an easy way to attain the protection they need, but only when they need it.
Features that improve functionality and comfort
In addition to meeting the necessary safety standard, the best linemen work boots also have the following characteristics:
Good traction, even in wet conditions
Impact protection
Effective for climbing
Taller height (8" to 10") to fit snugly and provide good ankle support
Arch support for durability and comfort
Waterproof
Insulated
Traction is an especially important feature to look for. With many of the most popular work boots, you'll often hear the phrase "Vibram sole". While there is a fascinating backstory to the Italian company and inventor behind this commonly used outsole, the bottom line is that a Vibram sole offers outstanding tread. Additionally, since it is made of rubber, it is waterproof and more flexible.
Impact protection is crucial for a lineman. Features like a steel toe protect from falling objects. A steel shank, positioned between the inner and outer soles, provides puncture resistance from the bottom of the shoe. Steel shanks also provide additional support when climbing ladders or poles. As long as the steel isn't exposed, OSHA says there shouldn't be a threat of electrical shock. That said, to be ultra-cautious, a lineman could also opt for nonmetallic (composite) protection which could include materials like nylon, plastic or fiberglass.
Raised heels can increase safety and comfort when climbing poles and using climbing gaffs. Raised heels also provide additional support when working on uneven terrain, which can be beneficial when hauling gear around.
Protection from the elements. Linemen work in all conditions. It's important to have a boot that can handle rain and snow. Water-resistant boots repel water and may be all the protection you need. However, boots with a waterproof membrane may be useful when coming into contact with water for longer periods of time. A waterproof membrane will help keep feet dry, and a good design will still allow feet to breathe. Boots with extra insulation can also come in handy on those really cold days and nights on the job.
Best linemen boots for 2024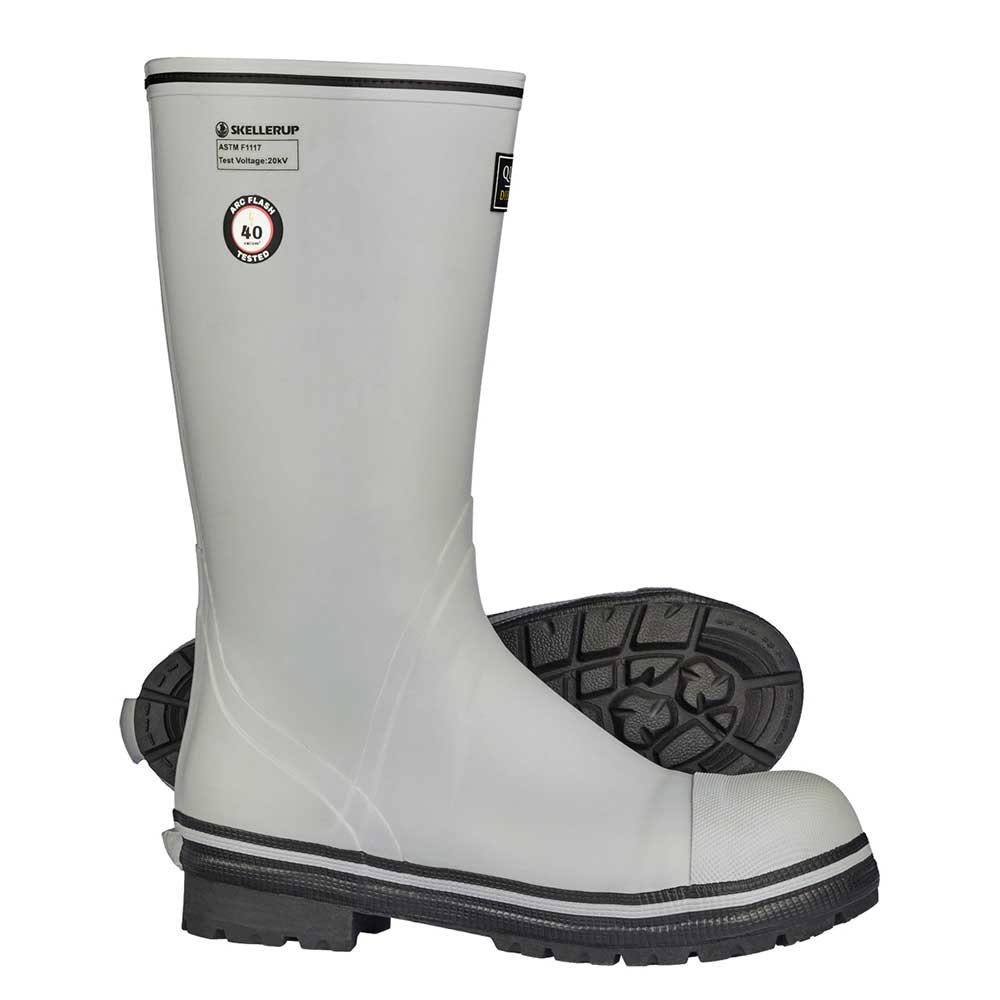 Quatro Dielectric Thermal Insulated Boots from Skellerup are manufactured with specially formulated insulating layers for electrical protection over the entire boot. These boots are fully waterproof with a full thermal sock liner for additional warmth and comfort.
Honeywell Salisbury Electrigrip Dielectric Boots feature several innovations designed to give utility workers the stability they need, even on the toughest terrain. A heavy-duty outsole enhances traction and slip resistance. Locking ankles prevent heel slip. Shock-absorbing insoles improve comfort. These boots also feature a composite toe, puncture-resistant sole, and integrated fiberglass shank for additional safety and support.
Wolverine Cabor EPX 8-inch Work Boots are designed to give utility workers the support and protection they need. Features include a waterproof leather upper, PC dry membrane, moisture-wicking mesh lining, nylon shank, fatigue-fighting footbed, and slip-resistant rubber lug outsole.
Ariat 8-inch Powerline H20 CT Work Boots feature waterproof construction, a composite toe, a molded external heel protector, and a Goodyear leather welt for all-weather durability. For added support and comfort, utility workers will appreciate the steel shank, polyurethane midsole, and lightly padded collar. For added traction, there's a durable Vibram outsole and outdoor traction lugs.
Honeywell Salisbury Dielectric Storm Rubber Overshoes with Buckles are designed to provide extra safety when climbing ladders and poles where the deep heel cavity can lock into rungs. The fabric lining makes them easy to get on/off.
Timberland Pro Endurance 8-inch Insulated Boots are made from premium waterproof full-grain leather with a waterproof membrane to keep feet dry and resistant to abrasion. Steel toe and fiberglass shank add safety and support. A mesh lining, anti-fatigue technology, insulation, and contoured polyurethane footbed enhance comfort.
Quatro Dielectric Slip-on Overshoes from Skellerup are manufactured with specially formulated insulating layers to provide exceptional electrical protection. These overshoes are also waterproof. Scuff and abrasion guards help reinforce high-wear areas for added durability. Unique serial numbers make PPE management easier.
Subscribe to The Utility Expo monthly newsletter to receive more industry insights like this.  
Read Next
The Best Electrical Lineman Work Gloves
How to Wash Flame-Resistant Clothing