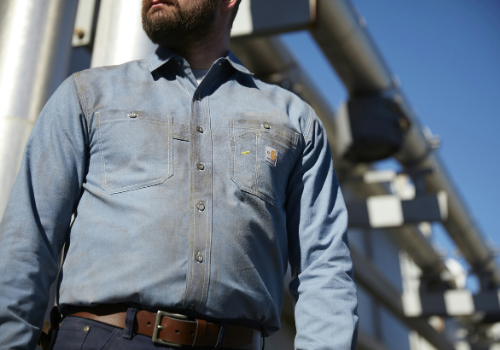 The Occupational Safety & Health Administration (OSHA) mandates that an employer provide the necessary personal protective equipment (PPE) for employees to do their jobs safely. Furthermore, employers must ensure the proper maintenance of that PPE so it continues to function correctly.
In many segments of the utilities industry, flame-resistant (FR) clothing is one of the unique pieces of PPE an employee must wear. The proper FR clothing — from shirts and pants to jackets, bibs, gloves and hats — will help protect utility workers on the job.
Depending on the application and associated hazards, OSHA standards dictate how a utility worker must go about assembling their uniform. For instance, it could advised that full-body coverage is necessary, followed by more detailed guidance such as shirts tucked in and sleeves buttoned. It's important to understand which standards apply to which applications, which we'll discuss in more detail later.
But regardless of the utility application and type of hazard, keeping FR clothing clean is a big part of keeping it in good working condition.
"The care and maintenance of your FR garments is critical," says Quentin Bonner, director of PPE and industrial product development at Carhartt. "We include precise care instructions on our labels, and it's important that the user follow those instructions very carefully. The last thing you want to do is incorrectly care for a garment. Doing so could compromise the protection ratings and you'd never even know it."
As explained in a white paper from Bulwark FR, most industry standards point to manufacturer recommendations for washing FR clothing. However, some standards also offer their own guidance. "Across all relevant standards, there are consistent rules that apply," says Derek Sang, technical training manager for Bulwark Protection. "The good thing is that no special processes or equipment are needed to properly clean FR clothing."
A few of those universal cleaning guidelines are:
Use a liquid detergent for best results
Pre-soak in liquid detergent when really harsh stains exist
Do not use bleach or peroxide
Do not use fabric softeners, starch or other additives
Avoid hard water to avoid mineral buildup
Wash FR garments separately from other garments
Wash FR garments inside-out to aid color retention
Tumble dry on a low setting
You can download Bulwark FR's complete white paper on the selection, use and care of FR clothing at their website.
Sometimes a piece of FR clothing is so soiled that it can't be cleaned effectively. When that is the case, Carhartt's Bonner says it is advisable to simply remove the garment from service. Signs of non-repairable FR clothing include:
Stained with a flammable substance that can't be removed through laundering
Has had contact with bleach
Torn or frayed around the edges
Frayed collar or cuffs
Torn or frayed seams
Choosing the right FR clothing
FR clothing is made using fabrics and components that will not melt and are not conductive. FR clothing provides thermal insulation to protect from heat and resist breaking open. FR clothing also resists "catching fire" because it self-extinguishes once the source of combustion is removed, such as a flame, arc or spark.
Standards from the National Fire Protection Association (NFPA) help utility workers choose the necessary FR garments for their applications. There is no specific standard for electric utility workers. However, NFPA 70E applies to electrical workers in general to help protect against shock, electrocution and arc flash. "Within 70E, a specific segment focuses on FR garments that is called ASTM F1506," Bonner points out. Both NFPA 70E and ASTM F1506 comply with OSHA 1910.269
"If you're dealing with potential flash fire, which would be more of a hazard for the oil and gas industry, that standard is NFPA 2112," Bonner adds. Then, NFPA 2113 specifically deals with the selection, use and maintenance of FR garments to ensure protection against flash fire.
Bulwark's Sang says it is important for electric utility workers to understand that there is a major difference between FR clothing and arc-rated (AR) clothing.
"When addressing flash fires, basic FR garments that self-extinguish when an ignition source is removed are sufficient," Sang explains. "But when it comes to electrical hazards, FR clothing is not enough. All arc-rated clothing is flame-resistant, but not all FR clothing has an arc rating."
Due to the need for electrical arc protection, Bonner says all garments for electric utility workers must be arc-rated and compliant with ASTM F1506. There are also different arc ratings for different hazard levels. Understanding hazard level ties back to that NFPA 70E standard, which says a utility company must conduct a hazard assessment before starting a job.
"Then you have to pair your FR/AR garments to what the known hazard is," Bonner explains. "The higher the hazard, the higher the arc rating you'll need. Most are categorized from a category 1 to category 4."
To establish an arc rating, a fabric intended for use in AR clothing is tested according to ASTM F1959. Leading FR/AR clothing manufacturers like Bulwark and Carhartt make it easy to filter by safety standard on their websites, catalogs and other selling materials.
Don't forget about comfort and style
Once a utility worker zeroes in on those available garments that meet the risk level they need to protect against, there are some additional features to look for in choosing the right FR clothing.
Since FR clothing falls into the category of everyday wear, utility workers want it to be not only protective, but also comfortable.
"When discussing PPE clothing, the value equation is unique in that it first must protect you as a lifesaving piece of equipment," Sang says. "Then we start looking at providing comfort through purposeful design, marrying moisture-wicking fibers and air permeability in fabric while keeping garment weight as minimal as possible."
Bulwark's iQ Series Comfort Knit Henley, for example, is category 2 AR/FR, NFPA 2112 compliant. The company says this shirt is a casual, comfortable and stylish option when it comes to FR-compliant workwear. The fabric is moisture-wicking and breathable, and the raglan sleeves with full underarm gussets provide extra mobility.
Carhartt's FR Force Lightweight Long Sleeve Shirt weighs just 4.7 ounces and features a unique honeycomb weave that enhances breathability. The fabric is also moisture-wicking and 10% stretchable to enhance mobility on the job.
More comfortable FR clothing can translate into a more productive utility worker. FR clothing that also looks great can take morale and productivity to an even higher level. Bonner says there is an emerging trend toward more "fashionable" FR clothing.
"We are seeing more color options being offered — colors that traditionally have been more aligned with Carhartt's non-FR apparel," Bonner points out. "Maybe a utility worker wants to feel comfortable wearing that same shirt to dinner after work. That's why you're seeing more FR clothing that looks like ordinary everyday apparel."
When it comes to reliable protection against flames and arcs, however, there is nothing ordinary about FR/AR clothing.
Brands Featured in this Article: 
Join thousands of industry peers who receive utility construction industry news and trends each week. Subscribe to The Utility Expo Newsletter.