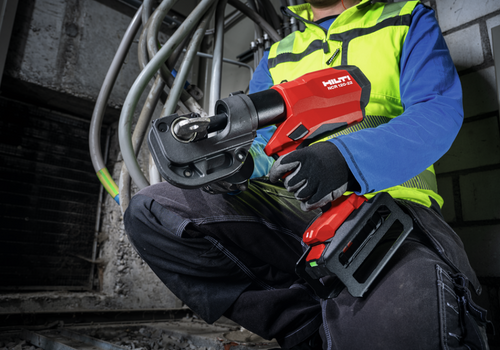 Power line workers need crimping tools that help them get the job done as efficiently and safely as possible. Whether you're talking about a hand-operated ratcheting crimper, manual hydraulic or battery-powered hydraulic, the best crimping tools include a variety of features that make the utility worker's job easier, such as:
Rotating heads and interchangeable jaws for versatility
Ergonomic handles for user comfort
Weather-resistant designs for reliability
While there is a time and place for each type of crimper, a battery-powered hydraulic crimping tool has become a power line worker's go-to solution.
How to choose the best crimping tool
When choosing the right crimping tool, you want to consider the material of the item being crimped (copper, steel, aluminum, etc.) and the thickness of the item being crimped.
Since non-powered crimpers can only crimp wire a few millimeters in width, most overhead power line workers use cordless crimpers for their compressive strength and ease of use.
Cordless crimpers usually come in either a 6 or 12-ton compression rating. This rating reflects how much force the tool is capable of producing.
For example, the Hilti NCR 60-A Dieless 6-Ton Crimper offers a large crimping capacity of up to 240 mm² (eight AWG - 500 MCM Cu, 1/0 AWG - 350 MCM Al), whereas the Hilti NCR 120-A Pistol-Grip 12-Ton Crimper offers an extra-large crimping capacity up to 400 mm² up to 750 KCMil / MCM.
A 6-ton crimper is sufficient for most overhead lines, whereas 12-ton crimpers are used more often to crimp underground wires.
Once you select a tool with sufficient compressive strength, you want to select a handle type that is comfortable for you. Models come as either inline or pistol grip. Inline models are straight like a pencil and users hold it like a knife. Pistol-grip models resemble handheld drills.
Many 12-ton crimpers are pistol-grip because the increased weight of those tools makes them easier to handle in this format.
Once you've narrowed down the list of potential crimping tools based on these industry standards, it's important to examine all the other features that distinguish one brand from another.
Features that stand apart
Of course, you need a tool that meets the specifications of the application in which you work, but there are a lot of features that contribute to greater productivity and safety and decreased time looking for tools and tool purchase/rental costs.
Hilti offers two elements that are highly relevant to cordless crimping tools: the Nuron battery platform and the ON!Track asset management system.
The 22V Nuron Cordless Platform is compatible with most Hilti crimpers and across much of their power tool offering from drill drivers to demolition hammers. This new system provides more run time and can even deliver more power than some corded or gasoline-powered solutions.
Built-in battery diagnostics alert end-users on battery state of health while data-driven services help simplify tool crib management. Plus, customers of Hilti's Tool Fleet Management program are automatically notified when a Nuron battery is no longer performing at optimum levels and can exchange it for a new battery at no cost within the four years of coverage in the Fleet program.
"Based on direct feedback from lineman crews across the country, all Nuron hydraulic tools now come with a Double Click Trigger Feature option that can be switched on and off to help ensure there is no accidental activation of the tools in the aerial bucket or during transportation," says Norbert Tiringer, Marketing Director - Energy and Industry, Hilti.
The second feature, Hilti's ON!Track asset management solution helps reduce tool misplacement and loss by tracking tools by using field-ready active and passive tags, Bluetooth technology, and Gateways. With ON!Track, end-users have access to information on the last-known charging location of misplaced tools and tagged equipment due to connected Nuron batteries, tools, and chargers. 
Our research shows that each jobsite loses on average one day per month of productivity due to workers searching for tools. In addition, the contractors can end up spending up to 90 hours per month tracking tools: in essence, productivity loss for both workers and contractors due to lack of an effective asset/tool management platform," says Norbert.
More recently, Hilti announced that ON!Track will integrate with Trimble Viewpoint Vista—an ERP (enterprise resource planning) solution within the Trimble Construction One suite. This integration helps provide a solution for unified tool tracking and more accurate, automatic job allocation, which provides end-users with one source of truth for tool and equipment management.
Recommendations
These crimping tools would be a top choice for any powerline worker.
1. Hilti Cordless Crimper NUN 54-22
A versatile inline tool that comes with multiple interchangeable jaws for cutting and crimping applications, including jaws for industry-standard six-ton tubular dies (DIN and NF). And it's on the Nuron battery platform for cordless, longer-lasting power, battery simplification, and tool tracking capabilities.
"For overhead linemen, the NUN 54-22 cutter and crimper is an all-in-one hydraulic tool for cutting and crimping applications," says Norbert. "The lineman using the tool can replace the cutting and crimping jaws without having to remove their safety gloves due to the large and spring-activated replacement bolt. A variety of jaws covers all major applications, whether it is cutting copper/aluminum, ACSR, or guy wire. On the crimping options, we have built-in crimping W dies, like D3, O, and BG grooves to simplify the operations. The tool is tether ready with recommended attachment points."
2. Hilti Cordless Crimper NCR 120-22
Powered by the Nuron battery platform, it features an auto-retract function and a manual retract stop to help the end-user save time on repetitive crimping tasks. It also features an electronic trigger lock and audiovisual signals to better protect the operator while crimping.
With its extra-large crimping capacity, the NCR 120-22 can crimp copper and aluminum conductors from 10-400 mm², insulated cable lugs and connectors and insulated pin terminals from 10-150 mm², tubular cable lugs and connectors for fine stranded conductors from 10-150 mm², compression cable lugs (DIN 46235) and connectors (DIN 46237, part 1) from 10-300 mm², and copper and aluminum cables up to 750 KCMil.
3. Hilti NCR 60-A Dieless 6-Ton Crimper
Designed to crimp aluminum and copper splices and lugs, copper cable lugs and connectors from 10-240 mm², aluminum compression cable lugs and connectors from 50-240 mm², solderless terminals, pin terminals, and solderless connectors from 10-240 mm².
It provides dieless operation, so you can never select the wrong die and a large crimping capacity (up to 240 mm²) due to the tool's innovative two-stage telescopic cylinder. A piston retracts automatically after completion of the crimping operation and a pressure sensor helps ensure correct crimping operation.
Subscribe to The Utility Expo monthly newsletter to receive more industry insights like this.  
Read Next
The Best Work Boots For Linemen
The Best Impact Wrenches For Lineman: A Balance Of Power And Ergonomics