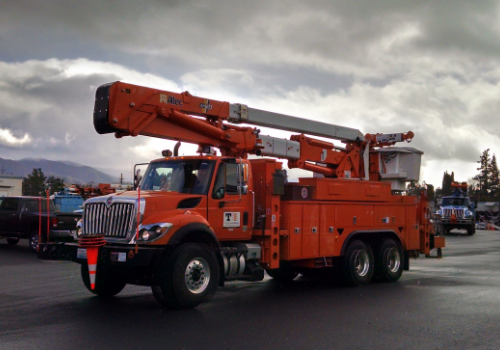 Based in Tacoma, WA, Tacoma Public Utilities (TPU) is a publicly-owned electric utility that generates, transmits and distributes electricity and provides energy services in Tacoma, WA, and neighboring communities. It operates three divisions – Tacoma Power, Tacoma Water and Tacoma Rail – and serves more than 179,000 customers over a 180 square-mile service area.  
Don Ashmore has been TPU's fleet manager for six years. Prior to that, he worked for Ryder Transportation for 24 years, starting out as a technician and working his way into management.
After retiring from Ryder, he decided he wanted to do something different. "I found an opportunity to be a public servant," he recalls, "and I thought that would be a good way to finish out my career."
Ashmore oversees TPU's diverse fleet of more than 1,400 different types of vehicles and equipment. There is a full-service shop on site.
GUIDING PRINCIPLES FOR ENVIRONMENTAL STEWARDSHIP
Sustainability and environmental stewardship are at the forefront of what TPU does, explains Ashmore, noting that 98 percent of its power comes from hydropower. With its fleet, "in everything we do, we take a look at it with a sustainable, environmental eye."
TPU has been exploring the alternative fuel market, starting out with biodiesel 5 and going up to biodiesel 20. It is in the process of introducing renewable diesel throughout its fleet after a successful pilot program begun in 2019.
"We have been piloting, since the early 2000s, alternative fuel vehicles, electric vehicles and hybrid vehicles," he notes. "We are continuously working with OEMs to bring these types of vehicles into our fleet."
In March, TPU will host a governmental display on its campus to showcase Lordstown Motors' Endurance, the world's first full-size, all-electric pickup truck. Lordstown Motors is an Ohio-based OEM of light duty fleet vehicles.
TPU is involved with the West Coast Electric Fleets – a joint initiative of California, Oregon, Washington and British Columbia to accelerate and expand the use of zero-emission vehicles. TPU has made a commitment that three percent of its annual vehicle purchases will be some type of electric vehicle.
Along with the focus on environmental sustainability is an emphasis on reliability. "At the end of the day," Ashmore points out, "our key job at TPU is to make sure our customers have water and power."
When it comes to TPU's fleet adopting new technology, "I don't call us 'cutting-edge.' I call us fast follower. We do not necessarily go out and take on new cutting-edge technology. We want what is tried and true before we bring it onboard and risk reliability."
FLEET MANAGEMENT PRACTICES
Because reliability is so critical, vehicle and equipment maintenance "is the number one priority and it is taken very seriously," stresses Ashmore. TPU is working to combine telematics data and tracking with its maintenance system to reduce the amount of manual inputting of things like mileage and fuel consumption and the potential errors that come with that.
TPU uses Hubb renewable oil filters. Made from stainless mesh and aircraft aluminum, the filter is completely recyclable, which reduces the waste stream, he notes. The filters are being piloted on the TPUs' light duty fleet. Hubb is looking to develop renewable oil filters for heavy duty vehicles.
"Because we are basically a city fleet, we do not typically get high mileages. More important is idling and PTO hours. We are in the process of switching a lot of our fleet over to an hour model instead of a mileage model for scheduling maintenance." 
Ashmore says TPU has been working with some engine oil manufacturers to see which types of oils can reduce particulate emissions from engines.
IMPORTANCE OF TRAINING
Ashmore emphasizes the importance of training and notes that TPU works with every vehicle and equipment manufacturer that it buys from to bring onboard operator and maintenance training.
Prior to COVID, Ashmore was working with the local technical college, Bates Technical College, to develop an in-house training program. "That came to a hard stop with COVID.
"It has been a real struggle to do training during the pandemic," he says. "We do a lot of virtual training but I prefer hands-on training."
VALUE IN ATTENDING THE UTILITY EXPO
Participating in The Utility Expo – the premiere trade show for utility professionals and construction contractors – "has been one of the best experiences of my career," says Ashmore. "For an equipment junkie like me, it is extremely educational."
He says the expo gives him the opportunity to meet and discuss equipment with OEMs, suppliers, engineers and his peers on a new level. "When I have questions about a piece of equipment on my yard, I have people I can contact for answers."
He points out that TPU "stands behind The Utility Expo because of the value I bring back from the show."
Ashmore is such a believer in the benefits that come from attending The Utility Expo, he  promotes the event. He actively urges his peers at some of the smaller utilities and agencies to attend the event because of its value.
"The way to become more proficient in your job is to always be asking questions," he advises. "Always be curious. Never be satisfied. Never stop learning. Use events like The Utility Expo to broaden your horizon.
"Especially in the utility industry, understand that you can pick up the phone and talk to somebody that is going through the same struggles as you."
Join thousands of industry peers who receive utility construction industry news and trends each week. Subscribe to The Utility Expo Newsletter.