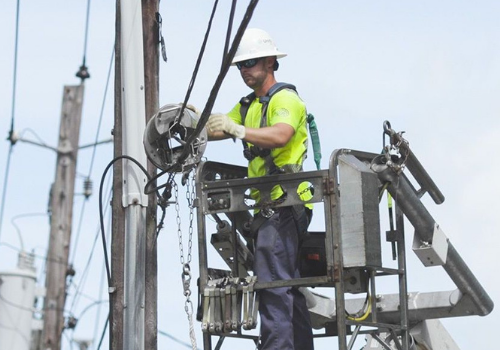 Every day, utilities depend on getting equipment and crews where they're needed — quickly and safely. Keeping track of it all is no small task. Managing routes, vehicles and drivers becomes an even bigger challenge when facing widespread outages in the aftermath of extreme weather.
Telematics offers utilities a powerful tool to help streamline fleet management. This technology allows utilities to collect, transmit, process and analyze data from trucks, trailers and other mission-critical utility assets.
Neel Sheth, director of product management at Samsara, shares his perspective on how utilities can use telematics to improve productivity, safety and compliance in their fleet operations.
Q. What are some of the key ways utilities can benefit from using telematics?
A. Customer service in the utility industry relies heavily on speed and accuracy. Telematics gives fleet managers access to critical information about their operations, vehicles and drivers in real time. Leveraging telematics allows utilities to make quicker, data-informed decisions. That results in better service to their customers and more efficient operations.
Knowing exactly where vehicles are during severe weather or other natural disasters is invaluable. The benefits are two-fold. First, utilities can immediately see where the nearest vehicle is and determine the fastest way to respond. Second, they can share a live location with customers in the impacted area and track technicians in real time. So customers have a better idea of when they can expect service to be restored.
Unified telematics platforms like Samsara encompass all vehicle types — including light and heavy-duty vehicles, construction equipment and electric vehicles. This offers utilities a holistic view of their entire fleet, with visibility into real-time vehicle diagnostic data such as fuel or battery levels. Having that kind of capability can play a major role in reducing vehicle maintenance and maximizing utilization.
Some utilities also use video telematics (dash cameras) to protect drivers and improve overall fleet safety. Video telematics offer insights into driver behavior and unsafe driving practices, arming managers with the data to coach accordingly. In-cab alerts enabled by artificial intelligence (AI) act as an extra set of eyes for drivers, potentially preventing accidents before they occur.
Q. How do fleet management systems work?
A. Utility fleet management systems usually include a few key components: tracking hardware that plugs into vehicles and equipment, cloud-based software that visualizes the data and mobile applications to enable paperless management on the go.
Samsara's hardware includes vehicle Global Positioning System (GPS) trackers, engine monitors, environmental sensors and AI dash cams. The hardware reports data to our dashboard, where it's analyzed and delivered to fleet managers in real time.
We also offer two mobile applications. The Samsara Fleet App gives fleet managers, safety directors and other administrators access to the full dashboard experience from anywhere. The Samsara Driver App acts as an electronic logbook for recording and tracking hours of service, inspections and compliance.
Q. What does fleet management software mean for record-keeping and compliance?
 A. Fleet management software makes it easier for utilities to remain fully compliant with regulations for logging hours of service (HOS), driver vehicle inspection reports (DVIR), fuel purchases and more.
With a comprehensive fleet management system like Samsara, utilities can save time with streamlined reporting. Precise GPS tracking makes it easier to provide proof of service or handle audits. Additionally, our system makes DVIRs simple for both drivers and maintenance staff. This ultimately decreases compliance costs and risk.
From our compliance dashboard, fleet managers can review hours of service violations, unidentified driving and unassigned hours. So you can easily monitor compliance across the entire fleet. Wi-Fi hotspots built into our vehicle hardware eliminate the need for cellular data plans and keep your fleet compliant, even in remote areas without cellular reception.
The dashboard also displays eDVIRs alongside preventive maintenance schedules, maintenance logs and real-time vehicle status. Mechanics can then prioritize the most urgent issues and sign the eDVIR for the next driver to verify, completing the Federal Motor Carrier Safety Administration (FMCSA) requirement.
What's more, the dashboard automates International Fuel Tax Agreement (IFTA) reporting. This makes it simple to generate, review and file quarterly reports.
Q. What should utilities consider when selecting fleet management software?
 A. When evaluating fleet management software solutions, it's crucial to make sure that the software features address your business needs.
Keep an eye out for robust features that span GPS tracking, HOS logging, route performance, maintenance diagnostics and safety. Because utility fleets are commonly mixed fleets with a variety of trucks, trailers and other equipment, managers should look for a truly unified fleet management platform — one that gives them visibility into data from everything in one place. This simplifies fleet management and provides better insights across the operation.
Finally, keep in mind that a good fleet management solution goes beyond just the software. You'll want a provider that partners with you from day one. Having implementation, training and other essential support services ensures not only a successful onboarding process, but also continued success.
Join thousands of industry peers who receive utility construction industry news and trends each week. Subscribe to The Utility Expo Newsletter.