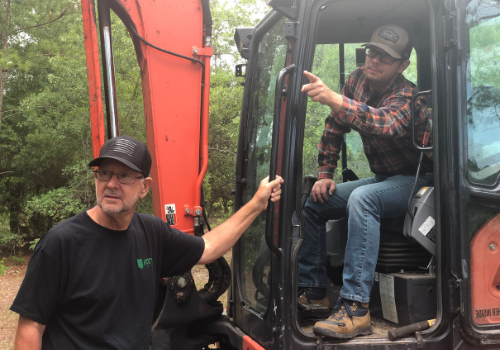 Advanced Terrain Solutions of Myrtle Beach, SC, offers complete land solutions and a specialization in mulching and commercial mowing.
The company, founded in April 2019, is co-owned and operated by Davin Jones and his father Kelly.
Kelly has been a licensed general contractor for more than 30 years in the Myrtle Beach area. Davin grew up going to jobsites with his father and when old enough, began working alongside him.  
"I grew up in the construction arena," notes Davin. "That is where my passion for heavy equipment began."
After finishing high school in 2003, his father pivoted from construction work to doing fire and water restorations, then shifted to landscaping. In 2011, Davin left to join the U.S. Army.
After leaving the army in 2014, he went to work as an insurance adjuster in Atlanta, GA, before starting Advanced Terrain Solutions with his father.
While he was in the army, his father and stepmom inherited a 250-acre farm outside of Myrtle Beach. To better work the farm, Kelly bought a tractor.
It was not long before he began bush hogging – brush cutting or rough cutting mowing – and mulching properties in Myrtle Beach for some friends of his. After a few years, Davin and his father saw the opportunity to expand into commercial mulching and mowing and formed Advanced Terrain Solutions. The company's service area is South Carolina's Horry, Georgetown and Marion counties.
1. Strategically manage expansion
"When we formed Advanced Terrain Solutions, my father and I made the decision to go where the market takes us and focus on what we could do," explains Davin. "But we knew going in our market was not going to be able to sustain us by just mulching and mowing."
As the business grew, Davin and Kelly slowly invested in more equipment – including a dump truck, skid steer, brush mover for the skid steer, mini-excavator with a brush cutter and mulcher – and added other services. Among them: under brushing, forestry mulching, small exactions, and small grading projects.
Having a dump truck enabled the company to do landscape supply, delivering dirt, topsoil, and gravel when business was slow, especially in the company's off-season. It then expanded further, adding debris and junk removal.
"We grew the business very slowly, growing incrementally because getting the tools and equipment – whether new or used – we require to do the work we do is expensive," Davin explains. "We invested gradually and as we did, more opportunities in our market opened up for us. We have remained successful through careful planning.
"We did not sink a lot of money into the company when we started it and expect to have work come out of the blue in our small market. That is why offering a wide variety of services – especially landscape supply – has been so beneficial. A lot of people around here need a couple of yards of fill dirt for their yard, topsoil for a planter bed, gravel to freshen up their driveway, and the like. When we don't have mulching and mowing work, those types of jobs provide us with work and income."
2. Invest in technology
When it comes to technology and the landscaping industry, the one thing you can count on is that nothing is going to stay the same, observes Davin. Consequently, a constant challenge is keeping abreast of the latest technologies, innovations, and trends affecting the landscaping industry.
"I am constantly searching for new technologies and equipment that can help us be more efficient and productive, especially when it comes to mulching," he points out.
"I am always looking at the specs of machines and what they are designed for. I read reviews about what people like and don't like about some piece of equipment or another."
3. Flexibility leads to new opportunities 
Adaptability is one of the keys to success in the landscaping industry, notes Davin. "A business cannot just sit back and expect more work to fall into its lap. It has to proactively seek out new opportunities to retain and grow the business. My dad and I are always doing this."
One of the most important things Advanced Terrain Solutions does "is constantly evaluate and assess our market," Davin explains. "My dad and I are always kicking around ideas about different things and considering new opportunities to expand our business. We look to see if there is a need for something in our market and if there is, can our market support filling that need.
"We also regularly talk about investing in a new piece of equipment and seeing if that could take us into a new market niche."
Davin says he regularly gets contacted by people seeking his advice on how to get started in the mulching or commercial mowing industries. "The most important thing I always tell them is that they need to know their market first and then determine if there is a need and a demand for the business they want to start. If there is, they then need to figure out what kind of equipment they will need to do the kind of work they plan on doing."
4. Video media provides important exposure
Davin has a YouTube channel with over 40,000 subscribers, called IDigIt4, in which he chronicles and films different projects that Advanced Terrain Solutions does. He regularly posts videos, mostly videos of his equipment doing various jobs.
"The videos show potential clients the kinds of services we offer and the before and after transformation of the properties we work on. This has helped increase awareness of our company and attracts customers."
He notes that he gets a lot of feedback from his posts and "I really enjoy interacting with the people that watch the videos."
5. Make time for industry events
Davin says he makes the time to participate in industry events because they offer many benefits. Among them: networking opportunities, gaining knowledge, keeping up to date with industry trends and being exposed to new and evolving technology, equipment, products, services, and solutions.
Becoming educated on your industry enables you to improve your operations and better support your customers, he points out. In addition, you can get answers to any questions or concerns from manufacturers and suppliers. That is especially helpful when it comes to new equipment and technology.
For the first time, Davin attended The Utility Expo last year. Held at the Kentucky Exposition Center in Louisville, it is an all-inclusive trade exhibition that highlights every facet of the utility industry – from new ideas, solutions, and products to improved productivity to enhanced safety to increased efficiency.
"The event was amazing," he recalls. "A highlight for me was being able to see and learn about all types of new equipment and technology. Along with watching demonstrations, there were opportunities for hands-on demonstrations. Being a 'heavy equipment 'junkie,' that was wonderful."
Subscribe to The Utility Expo monthly newsletter to receive more industry insights like this.  
Read Next
A Good Mentor Plus Hard Work Equal Success In The Utility Industry
Texas Utility Contractor's Growth Focused On Bringing Family Closer Together