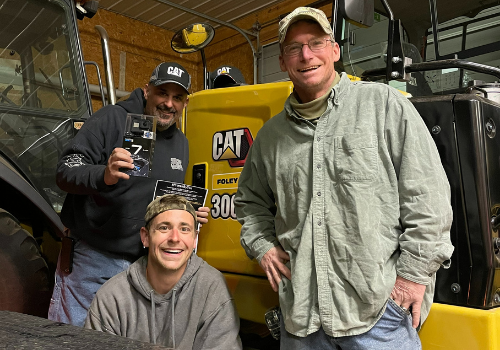 As a teenager growing up outside of Philadelphia, 28-year-old Brandon Adams could never have dreamt of the kind of success he is having as a utility contractor today.
"I had a rough childhood and didn't have a dad growing up," says Adams, Owner of B-Mac Excavating in Schwenksville, Penn. "My best motivator in life is the struggle. I try to do everything I can to make the best life I can."
In Adams' view, making the most of life is about working hard at what you love to do. Adams loves heavy equipment, concrete, and utilities.
"I just don't have a lot of interest in sitting on a pile and baling dirt," Adams says. "I'm somewhat of an adrenaline junky. In the utility world, every day could be your last day. It's where I want to be."
Since joining the industry, different opportunities have presented themselves to Brandon. In his experience, he's learned to always be flexible and always work hard when any opportunity pops up, a philosophy that has helped him particularly recently, as he's learned embrace the work of the growing wireless sector.
From frustrated foreman to an energized entrepreneur
Roughly 25% of B-Mac Excavating's work is underground utility. The other 75% comes from the booming wireless sector. Wireless is actually what drew Adams to the construction industry in the first place back in 2015.
"I became friends with Ed Bowlin who has a company called Full Tilt Grading," Adams tells. Adams was frustrated in his current job as a foreman for a different company and often went to Bowlin for advice.
"Ed encouraged me to give my notice, quit my job, and start my own excavating company," Adams says. "That's exactly what I ended up doing. My original company name was B's Excavating, but everybody thought I was a bee exterminator. Then one day Ed and I came up with the name 'B-Mac Excavating' which is patterned after my initials."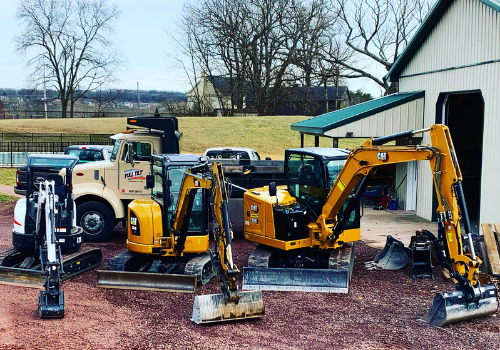 Initially, both Full Tilt Grading and B-Mac Excavating were focused on the wireless industry, often working in tandem. Then some consolidation started taking place among wireless providers which squeezed both Adams and Bowlin out of some projects.
"After not having any work for about six months, we decided to go work for a general construction company called R.E. Pearson," Adams says. "I was an equipment operator and did a lot of concrete work. I fell in love with both at the same time. But I also still loved doing utilities."
Before long, the wireless company started calling again. They missed the reliability and workmanship that Bowlin and Adams brought to the table. "Now I'm 75% focused on wireless again," Adams says. "I also do a lot of work for PECO (formerly Philadelphia Electric Company) including concrete restoration, demo and replace, and even simple telephone pole installs."
B-Mac Excavating's equipment fleet is a mix of excavators and skid loaders, along with a couple of trucks and a backhoe. Adams says he likes to operate some of his older units that are cab-less with open ROPS. "Those machines have a lot of sentimental value for me because that's how I got started. The visibility is also excellent. I let my employees run my newer equipment with all the latest comfort features like AC and stereos in the cab," Adams says.
As for some of the real cutting-edge technologies, such as grade control, Adams says he can definitely see the value, but not necessarily for the type of work he is doing.
"But I do own just about every bucket imaginable," Adams points out. "I'm not much into handwork so we don't do much shoveling. It's funny because some people think we're lazy because they never see us with shovels when we post videos and pictures on social media."
But working efficiently and being lazy is not at all synonymous. In fact, working efficiently is synonymous with working smart—and is a prerequisite to success in the rapidly growing, fast-moving world of wireless infrastructure.
Getting wired into the wireless industry
B-Mac Excavating has a personal connection to its largest wireless customer. "They've been doing wireless since it all started in the 1980s," Adams says. "They are into their third generation now and I'm good friends with the owner. We do a lot of excavating and concrete work on their projects. Ed (Full Tilt Grading) does a lot of work for them, too."
As the old saying goes, "It's not what you know, but who you know." While partially true, you also have to know how to produce.
"The expectation this year has been four sites per week," Adams says about a massive project to install a new 5G network for a prominent satellite TV provider. "This project includes trenching, setting a ground ring, platform and cabinet, and then moving onto the next site."
Another large project B-Mac Excavating has been working on is a series of mini cell towers for a wireless carrier. "The future of wireless is to have these mini 5G towers every couple of football fields apart," Adams explains. "These towers look like little light poles. Our work is pretty cut and dried. We drill down about 8 feet and pour some concrete, and then we're onto the next one."
YouTube is a reminder of how fun this job is
As busy as Brandon Adams and Ed Bowlin are, they still find time to run a popular YouTube channel, Full Tilt Grading. They've been on and off since starting the channel in 2019, trying to keep up with the demands of their growing construction businesses. Adams says they are now committed to one video per week. Bowlin shoots the footage of himself and his crews in the field, and Adams does the video editing in his spare time.
"We named our channel 'Full Tilt Grading' because it has a better ring to it than B-Mac Excavating," Adams jokes. "We don't make very much money at this point, but that isn't the point. When I put these videos together, it always puts me in a really good mood. Our employees also think it's pretty cool. We also hear from our customers once in a while and have even come upon some new opportunities because of our YouTube channel."
Adams and Bowlin were part of a YouTube meet and greet event at The Utility Expo in September 2021. Adams says they were incredibly honored to be a part of that, made some new friends, and learned a lot about the broader utility industry. "It was the first tradeshow I'd ever been to in my life and it was great," Adams says. "We definitely plan on attending again."
While September 2023 is a long way off, and a lot could happen before then. But one thing is for sure: When Brandon Adams sees an opportunity and makes a commitment, he's like a pitbull on a porterhouse steak.
"Ed has always taught me to think positively and always look for ways to be more productive," Adams says. "Always use your head and keep fighting to get the next job done. I would never be where I am today if not for Ed. My advice to any other young contractor is to find a good mentor and listen to them."
Judging by his success over the past seven years, Brandon Adams has pretty good hearing, and Ed Bowlin gives pretty good advice.
Subscribe to The Utility Expo monthly newsletter to receive more industry insights like this.  
Read Next
Texas Utility Contractor's Growth Focused On Bringing Family Closer Together