Now in their 20th year in business, Brandi and Danny Stutts recently attended their first-ever Utility Expo, discovering three efficiency-boosting products that will help propel the company toward its next major milestone.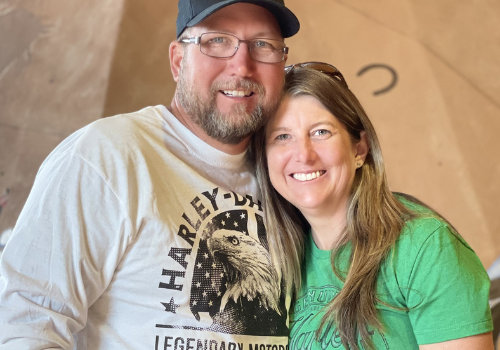 Danny Stutts was enjoying a prosperous career in the pipeline industry, aside from the fact that he had to do a lot of traveling. He wanted to be home more because his wife, Brandi, was expecting.
"I decided that I wanted to start my own company so I could work hard, make decent money, and stay close to my family," Danny says. "I bought a backhoe and learned how to dig swimming pools and plumbing. I didn't know a soul, but I got out there and started beating on doors. That's how I got started back in 2002."
After being in business a few years, Danny made the transition to dry utilities. That's when business took off.
"Another contractor got a hold of me and wanted to give me a shot," Danny recalls. "He knew I came from the pipeline industry and that the trenching I was doing was up to par with OSHA standards. The ironic thing was that he needed me to go down to New Orleans to work. I started my business to be home more, and here I was driving from the Houston area down to New Orleans for two years straight. At least I got to drive back home on the weekends."
Before long, other utility contractors saw the work Danny was doing and started reaching out to him. "Our company has been built almost entirely on word of mouth," Danny points out. "We didn't even get a website until a few years ago."
Finding inspiration and innovation
Now celebrating its 20th year in business, B&D Excavating of Texas works throughout the state, although the majority of its projects happen in and around Houston. Even though Danny doesn't have to travel anymore, he still doesn't spend much time at home. Either does Brandi. "I'm the happiest guy around because I get to spend so much time with my wife—even though most of it is spent at the office," Danny relates.
Danny hasn't been operating equipment for many years now. "We really started to grow when I started hiring good people I could trust and didn't have to micromanage in the field," Danny says. At the same time, Danny and Brandi's children, son Taylor, and daughters Caitlyn and Makaila, were getting older. Brandi started spending more time in the business, as well, overseeing payroll, invoicing, and other administrative duties.
Today B&D Excavating of Texas has 30 employees and 18 pieces of equipment, a combination of mini excavators and skid-steer loaders. "The industry has really changed," Danny relates. "When I first started, the backhoe was the most common piece of equipment. Now it's all about compact equipment for added versatility. We do a lot of work in downtown Houston. The machines we use now are a lot more efficient in those congested areas."
As busy as their company is, it is challenging for Danny and Brandi to find time to implement a lot of changes. But to continue moving forward, they agree that certain changes need to be made, especially those related to productivity and efficiency.
Danny and Brandi made their first-ever trip to The Utility Expo in 2021. "We always wanted to go, but it's just so hard to get away sometimes," Danny says. "With good employees, we could leave behind running the business, it was a real blessing to be able to take a break, get a lot of new ideas, and get rejuvenated. We had a blast walking around and talking to people, and even got on a few pieces of equipment in the outdoor demo area to try some things out."
"Walking around outside and seeing all the different types of equipment was really eye-opening for me," Brandi adds. "Danny had been talking about purchasing a missile (underground piercing tool) for quite a while. I didn't even know what it was or what it looked like. We were able to compare several different vendors at the show so we could decide which way we wanted to go."
Another efficiency-boosting product Danny and Brandi tested at the show was a tiltrotator, which essentially allows the operator to swing the excavator bucket 360° and tilt it 45°. "It's really handy when working in tight spaces and attempting to dig under utility lines, which we do a lot of in downtown Houston," Danny says.
Nothing but the best
Danny and Brandi are still in the process of purchasing the missile and tiltrotator they discovered at the show. In the meantime, their employees continue to operate a fleet of excavators and skid loaders that are small in size, yet big in features.
"I'm a big fan of any bells and whistles that make equipment easier and more comfortable to operate," Danny says. "I don't run equipment anymore, but I still try to put myself in our operators' shoes. For them to want to come to work every day and do a great job, they need to be comfortable. Our focus is on taking care of our operators so they take care of us."
Investing in good employees and good equipment has allowed B&D Excavating of Texas to continue moving forward.
"We are all a team here," Danny says. "I want our employees to feel like this is their company, too. Most of our employees have been with us for a long time. I have a few guys who've been with us for 18 years."
High-performing crews have allowed B&D Excavating to carve out a nice niche in the market. "We do a lot of electrical duct banks in downtown Houston that a lot of other utility contractors don't want to touch," Danny says. "We go in there and do all of the underground trenching and pour all of the concrete and transformer pads. It's not easy work, but we have the equipment and people to do it right."
Maintaining a positive attitude has been another key to the company's success.
"I'm always chasing my dreams," Danny says. "I wake up every morning super excited and can't wait to get to the office. That's how we've stayed in business for 20 years now, and that's how Brandi and I have stayed married for 25. We are both very positive people and like being around other positive people."
Now 30 employees strong, there are a lot of positive people helping drive the company forward. That is why Brandi and Danny concur that technology must play an increasingly influential role in the management of the business.
"Another thing we learned a lot about at The Utility Expo was field management software," Danny tells. "Right now, my foremen are still filling out daily reports the old-fashioned way, writing down notes, and texting me jobsite pictures every day. Brandi and I really want to get set up with some field management software so our foremen can easily select the equipment and employees they are using for the day, take photos, and type in notes. Plus, all of that information will be right there in the cloud so I can look at it anytime to stay on top of projects. This will eliminate a lot of paper, confusion, and overall inefficiency. We just need to find the right time to make the purchase and do the implementation because we are just so busy."
A legacy born out of necessity
Danny Stutts started his excavating company 20 years ago so he could be around his wife and three children more. It was a dream that continues to come true.
Taylor recently graduated college and has returned to work in the family business. He aspired to become a football coach but realized how much he missed working with his parents. According to Danny, Taylor's education in coaching is already paying off in respect to bringing out the best in people and fostering teamwork.
"Having Taylor come back to the business has really lit a fire under me to leave a legacy for him to eventually take over," Danny says. "I just want Taylor to get as much field experience and learn as much about this business as possible before coming to the office, which is why we have him working as a foreman for now. Soon we'll bump him up to project manager."
Brandi is hopeful that Caitlyn will also come back to the family business after completing her collegiate studies in engineering. Early indications are that she will. Makaila just turned 16 and spends much of her free time at the office helping with filing and computer-related tasks.
"This is just a very exciting time for us," Danny says. Yes, the company has grown and continues to have tremendous success. But more importantly, the whole motivation for Danny starting the company 20 years ago is paying off today: to bring the Stutts family closer together.
Subscribe to The Utility Expo monthly newsletter to receive more industry insights like this.  
Read Next
Ditch Witch's Kevin Smith on what Attendees Can Expect from Them at the Utility Expo