More than 900 exhibitors introduced new solutions—products, technologies, and services—at The Utility Expo 2023. Across all the equipment and innovations shown during the record-breaking show, several important trends and commonalities became evident, all set to change the utility and construction industries in the future. 
Electric fleets are rising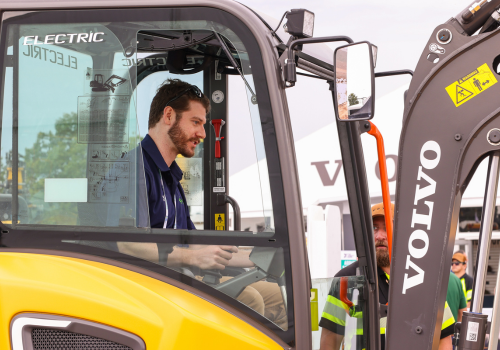 Equipment electrification is one of the biggest trends in the utility industry. Electrification allows the end-user to cut their carbon footprint, decrease operating costs, and minimize job site noise.
Altec has been a leader in aerial device electrification. Their all-electric work truck solutions feature a fully integrated electrified power take off "ePTO" to help you manage your machine's power and cut idle times. According to Altec, bucket trucks idle for hours each day and each hour spent idling burns one gallon of fuel. Altec's new Jobsite Energy Management Systems (JEMS) plug-in technology automatically eliminates idling.
And Altec isn't the only one; most manufacturers of aerial devices now offer all-electric options, including Terex, Dur-A-Lift, and Versalift.
And aerial lifts aren't the only equipment getting electrified. Condux Tesmec, Inc. displayed a new, all-electric puller-tensioner—the PES500. The PES500 offers 5000 pounds maximum pull for overhead and underground operations. Silent operation makes it ideal for almost any location.
As well, several manufacturers, including CASE, Caterpillar, and Volvo Construction Equipment, presented fully electric compact excavators.
Data will drive better decisions
The future of utilities will be filled with data.
A lot of software companies exhibited at the show. And a lot of their products are used for tracking—trucks, equipment, inventory, workers, and finances.
Knowing what resources you have at your disposal and knowing in real-time where they are located helps end-users make informed decisions.
The new Rooster Asset Tracking System automates reporting and captures every minute of powered, unpowered, and heavy equipment activity.
ItemAware by Aware Innovations provides asset tracking, as well as work in process tracking, returnable asset tracking, and tool tracking.
The Intellishift fleet management software incorporates telematics; AI dash cams; and inspections, compliance, and maintenance data to provide fleet insights while minimizing data silos.
The utility industry will be using data in other ways as well. HeavyBid is HCSS's estimating software. It uses external takeoff programs and inputs that data from an external takeoff software to accurately produce a cost estimate. And B2W allows end-users to share data across applications for estimating, resource scheduling and dispatching, and equipment maintenance.
Automation will improve efficiency and accuracy
Data organized in a software allows for automation. And all the above software allow for automation of some work flows.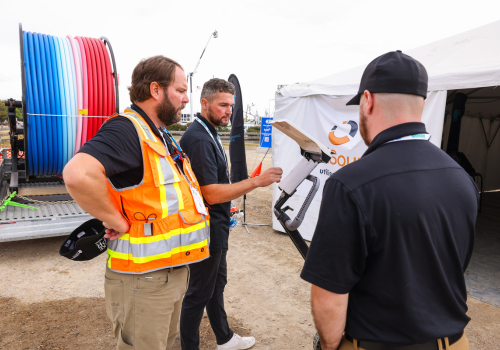 And when machines are combined with data, machine functions can be automated, such as the return-to-dig function on loaders or automatic engine shut-off on numerous machines and trucks, but these capabilities are being extended. A machine control system can use sensors and GPS data to perfectly position an electrical pole or to lift the working platform on a lift machine to its intended destination.
The new G2 volumetric mixer from Holcombe Mixers helps ensure concrete is to specification by automatically adjusting water and cement levels. The operator needs to just push one button and the mixer does the rest.
Automation allows companies to do more with less people, so companies will solve a lot of their labor shortages with automation.
Access will be improved
In the utility sector, work areas can be difficult to access. Some are located on terrain that's difficult to traverse, some are high up, and some are in tight spaces.
For rough terrain, Terramac's RT14R crawler carrier is an ideal choice for utility right-of-way projects. The unit's low ground pressure provides great traction and the unit's 360-degree rotation allows for greater ease of use, efficiency, and accuracy.
The Morooka 2500 VDL equipped with a six-ton Maxxon mixer on display was purpose-built for a customer who requires large-batch concrete mixing and pouring for electrical towers and wind turbines on properties that are difficult to reach.
Due to urban development, utility companies and contractors need to reach places high above the ground with little working room. In response, manufacturers (Altec, Duralift, Versalift, and Terex) are providing bucket trucks with a smaller chassis but with a higher reach that was previously only available on a larger chassis. This not only improves ease of access, but it decreases owning and operating costs.
The TT Technologies' redesigned Grundopit pit-launched mini directional drill can be used in yards and other confined spaces. Its only 54 inches long, 43 inches wide, and 57 inches tall, and its well suited for fiber-to-the-home and utility service line installations.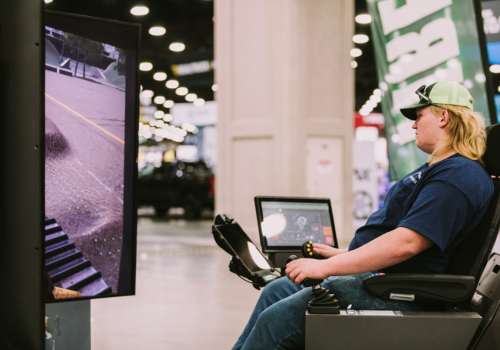 A lot of other machines are getting smaller too. SDP Manufacturing showed their mini-digger derrick—the EZ Hauler 55 MLP, which fits through a 36-inch-wide opening. And the Mud Dog 700 vacuum excavator offers a compact footprint for excavating in urban environments.
Remote operation will be normalized
Utility companies and contractors can perform work at remote or hazardous environments by using remote-controlled equipment. Brooks Brothers Trailers introduced their UP-10K Air underground puller, which is operated with a wireless remote. And Caterpillar showed its 302 CR compact excavator with Cat Command console, which allows for remote operation.
Also, drones are either remotely operated or automatically operated and provide access to remote and difficult-to-access places. Mordor Intelligence expects the commercial use of drones to grow by 20 percent per year until 2028. Eight companies at the 2023 show—GPRS, Gresco, Hetronic Inc. Kronos Group, Seiler Instrument Global, Skyskopes, United Rentals, and Volatus Aerospace Corp.—offered either a drone product or service.
From drones to better access to data to electrification, you can see how the solutions offered today will shape the industry tomorrow.
See it in action
With over 21,000 attendees, over 900 exhibiting companies, and 1.5 million net square feet of show to see, The Utility Expo 2023 was our largest show ever! Check out this video to see what you missed:
Subscribe to The Utility Expo monthly newsletter to receive more industry insights like this.  
Read Next
Top Tech Trends for Utilities in 2023
AI is Ready to Take a Leading Role in Improving Utility Fleet Management