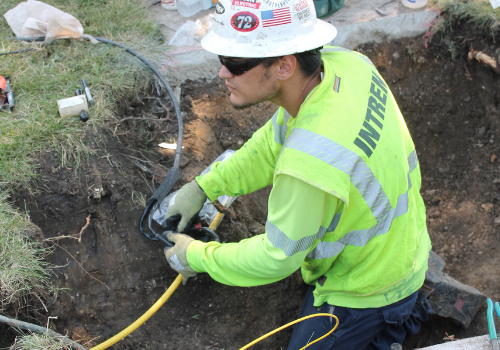 INTREN, LLC is headquartered in Union, Ill., outside of Chicago, but has offices from coast to coast. The company delivers a range of utility contracting services from underground cable and overhead distribution to vegetation management and storm response.
It's remarkable to look back at the company's earlier days before it blossomed into one of the largest and most respected utility contractors in the industry. While INTREN may have started small, the founder had big goals and a bold vision for how to achieve them.
A single trencher gets it all started
INTREN was initially founded as Trench-It by Loretta Rosenmayer in 1988. Rosenmayer and her husband owned a trencher at the time. They specialized in trenching and installing irrigation lines on golf courses. But then a new opportunity emerged.
The electric utility ComEd (Commonwealth Edison) was racing to keep up with a housing boom in the Chicago area. So, Rosenmayer traded in the fairways and putting greens she had been working on for the backyards of suburban developments. Her company only did the trenching, though, as ComEd came in at the end of the project to hook up the utilities.

Matt Turk, who was recently named company president, joined Trench-It in 1991 as safety director. "I was employee number 50," Turk fondly recalls. A few years later, Trench-It expanded its capabilities and began hooking up electric utilities. Shortly after that, the company branched into boring.
By 2009 the complexion of the company had changed so dramatically that a name change was in order. As Turk points out, Trench-It wasn't even trenching anymore; the company was doing civil work, underground cable pulling and overhead distribution. Rosenmayer wanted a company name that amplified the internal fabric of the company — without losing sight of the company's roots. INTREN was born. The IN stands for integrity while the TREN stands for trench.
"INTREN is a WBE (women's business enterprise) and is also the largest woman-owned union company in the country," Turk points out. INTREN employs roughly 2,000 people across its operational bases in Illinois, California, Indiana, Iowa, Maryland, Missouri, Ohio, Pennsylvania and Wisconsin.
"Today we are primarily a distribution company, working for some large utility companies to provide overhead and underground services," Turk relates. INTREN's impeccable reputation paved the way to its vast expansion. Relationships with utilities such as ComEd in Illinois and Pacific Gas & Electric in California helped fuel the company's first growth spurt in the 1990s and early 2000s. INTREN has also developed a relationship with the Excelon family of companies which includes PECO Energy in Philadelphia, Baltimore Gas & Electric and PEPCO in Washington, D.C. INTREN also does work for Duke Energy.
Turk says the secret to developing such strong relationships with such strong utility companies comes down to one word: patience.
"It took about two years to win a company over," Turk says. "It wasn't easy. We came up with a slogan, 'outperforming every day.' That's what it takes to earn a utility company's trust. To do that, you need the right workers and the right culture. It takes a while to build that. Fortunately, Loretta was always committed to that."
New leadership focused on 'next generation'
While Turk was originally hired as safety director in 1991, he had been serving as executive vice president for the past several years. Back in January, Turk was promoted to president. Two additional leadership changes were announced in January. Sherina Maye Edwards was named permanent CEO and Jennifer Ballard Croft was named chief legal and HR officer.
Edwards had been serving as interim CEO since September 2020 after Kelly Tomblin decided to return to the utility sector. Prior to being named interim CEO, Edwards has been serving on the INTREN board of directors for three years. A lawyer and former utility regulator, Edwards had also served on the Illinois Commerce Commission. "Sherina's connections in the utility industry, commitment to diversity, and strong sense of the future of energy make her a real asset to INTREN," Turk says.
Croft is also a lawyer with an extensive background in labor law. Turk says she brings a fresh perspective on how INTREN should function and communicate with various stakeholders. New technologies usher in the need for new skills. To continue thriving into the future, companies like INTREN must continue staying ahead of the curve.
"As a leadership team, we are asking ourselves what the next generation of the utility industry is going to be," Turk says. "We might be putting poles in the ground today, but what about in the future? How will things like renewable energy and battery storage affect how we deliver services? What will our employees need in order to continue outperforming every day?"
'Outperforming' always starts with safety
Since its early days as Trench-It, Turk says company leadership has always had a strong commitment to safety. Hands-on field leadership has proven equally important, as has accountability with every employee.

Sean Hughes, vice president of safety, has been with INTREN for 13 years. He points to that company mantra, "outperforming every day," adding that it is essential to connect that mantra to every task executed on a daily basis.
"To an underground cable installation crew, 'outperforming every day' means following our rules to dig by," Hughes shares as an example. "We developed a set of rules to help us operate efficiently while also remaining safe. We always remind people that if they are following our rules, they are doing what they are supposed to be doing."
To define many of those task-specific rules, INTREN worked from the bottom up.
"We assembled cross-functional teams," Hughes relates. "We brought in groundmen, equipment operators and truck drivers. We asked them about the tasks they were performing and regulations they had to follow. We asked them what policies and procedures could be put in place to help ensure their safety. We looked to the field for advice because our field workers are our subject matter experts. Then people like myself and Matt Turk, who are more process-oriented, built that field input into our operational fundamentals."
Oversight is the next piece to "outperforming every day." INTREN managers like to get into the field to observe how things work.
"The worst thing you can do in this industry is manage from an office," Hughes says. "You can look at prints and maps in an office, but you don't see how crews are having to work around fences and sheds and other challenges. That's where you need that hands-on piece as a manager. You throw on your boots and hardhat, and help out in the field once in a while. That's when you can find out, for example, that the workers need a better safety glove for a certain task."
Check out INTREN's processes at The Utility Expo 'The Jobsite' presented by Planet Underground

INTREN will be showcasing its approach to bottom-up, field-driven processes at The Utility Expo this September in Louisville, Ky. Dennis Bednarski, senior vice president of operations, is helping lead the coordination of this effort.
INTREN is the lead sponsor of a new show feature called "The Jobsite, presented by Planet Underground." INTREN personnel from around the country will demonstrate how the company takes care of business in the field. Although planning is still underway, Bednarski says demonstrations will likely cover everything from jobsite briefings and safety checks to utility locating, trenching, vacuum excavation, directional drilling, conduit installation and cable pulling.
"We will also demonstrate some of our specialty work like cable splicing," Bednarski adds. "We have always believed that peer-to-peer learning is the best way to continue making this industry better and safer."
The Utility Expo has partnered with Planet Underground to bring this exciting event to this year's show. Planet Underground is a knowledge-sharing organization focused on underground utility damage prevention. Its Roundtable Live! events have been popular with utility industry professionals for the past several years.
Sustainability is nothing new at INTREN
As the INTREN leadership team looks to the "next generation" of the utility industry, renewable energy sources like wind, solar and battery storage will play a pivotal role. The broader concept of "sustainability" is something that has actually been on INTREN's radar since 2011.
INTREN was one of the first utility contractors to join in an effort called EUISSCA, the Electric Utility Industry Sustainable Supply Chain Alliance. As Turk explains, procurement officers at the electric utility companies were driving a sustainability initiative throughout their supply chain. INTREN jumped on board almost immediately, establishing some aggressive carbon footprint goals.
Fuel consumption represented the lowest-hanging fruit, which is why INTREN has been utilizing hybrid vehicles for years. Today the company is experimenting with electric vehicles to determine which applications are a good fit. In applications where diesel-powered vehicles are necessary, INTREN opts for unique engine technologies that help optimize both horsepower and fuel efficiency. "We've also set policies around idle time," Turk adds.
INTREN's sustainability initiatives extend far beyond fuel consumption, though. "We've outfitted our buildings with light bulb timers," Turk says. "We've stuck to our commitment to buy 50% clean energy in all of our offices around the country. We also have several efforts underway with respect to recycling."
INTREN has also made a creative move in its boring operation. "We run 70 boring rigs," Turk points out. "We got to thinking, why are we using all of this fresh, drinkable water? So we made the decision to start using non-potable water and it has worked out very well."
Diversity delivers the workforce everyone needs
INTREN founder Loretta Rosenmayer made a commitment to diversity early in her company's history. After all, she was a minority herself as a woman in the utility contracting business. As her company grew, Rosenmayer wanted to help other women chart their own courses in the utility industry.
Rosenmayer came up with a program she called "Changing the Face of Construction" around 2011. It was a mentoring program that gave preference to minority- and woman-owned suppliers and subcontractors INTREN could work with.
"Today we have 94 companies in our system," Turk says. "The neat thing is that after Loretta first brought many of them in and helped them get started, they eventually went out on their own. Some of our former subcontractors are even our competitors now."
Nowadays, "Changing the Face of Construction" is about more than a diverse supply chain or female CEO. Diversity is also about the 2,000 or so individuals who work throughout the INTREN organization. This is something the new leadership team is keenly aware of as the company moves forward into that "next generation" of the utility industry.
INTREN participates in ComEd's CONSTRUCT initiative, a 10-week skills training program in Chicago. INTREN has also launched its own initiative called The INTREN Institute. This 6-week program is held in downtown Chicago. It helps 10 students develop specific skills and credentials to help them land a good-paying job in the construction industry.
"We are always asking ourselves: How do we open the door to communities that have been historically underserved by the unions?" Turk says. "All of these programs were started by our founder, Loretta Rosenmayer. They were followed through on by our previous CEO, Kelly Tomblin. Now our new CEO, Sherina Maye Edwards, continues to carry on that commitment. With DEI (diversity, equity, inclusion) being so critical today, companies like ours need to look like the communities we serve. What can we do to continue making a difference?"
For INTREN, it's just a matter of doing the same types of things they've already been doing for 30-plus years.
Join thousands of industry peers who receive utility construction industry news and trends each week. Subscribe to The Utility Expo Newsletter. 
Consisting of 80,000 square feet of outdoor space dedicated to creating an actual construction site, The Jobsite is where attendees, manufactur­ers, utility contractors and service providers meet in the middle at The Utility Expo. Located at the midpoint of Lot K and Lot E, The Jobsite combines under­ground utility design, utility locating, vacuum excavation, and installation of new under­ground infrastructure. Through its relaxed, peer-to-peer learning environment, The Jobsite promotes a positive, meeting-in-the-middle approach to solving damage prevention issues.