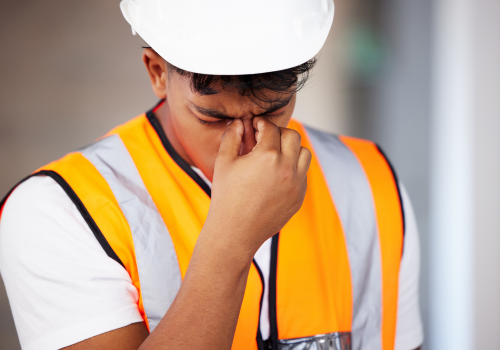 One's mental health affects one's quality of life, relationships, and work performance.
Mental health issues at work can lead to less satisfying work experiences, negative experiences with co-workers, unwanted attention from managers, and missed professional development opportunities, such as training opportunities, raises, and promotions. So people should be motivated to take care of their mental health. 
Take these four steps to improve your mental health at work.
1. Learn more about mental health
To understand your mental health, you need to have a vocabulary for identifying mental health concerns, assess how you feel on a routine basis, identify what strongly affects your mental health (both positive and negative), and have at least a novice understanding of mental health conditions.
According to Mental Health America:
More than one-fifth of all US adults live with a mental health condition
Nearly half of all Americans will meet the criteria for a mental health condition at some time in their life
So analyze your thoughts, feelings, and behaviors to look for any mental health concerns. Here are a few questions that can help you assess your mental health.
How do you feel right now?
Has your mood in the last week been up or down compared to your usual mood?
Do some activities seem more difficult than they used to be?
Have you lost motivation to perform?
Have you lost interest in activities you typically enjoy?
By having a greater understanding of your mental health, you are better equipped to manage and improve your mental health.
2. Find ways of improving your mental health
Some events and activities improve mental health and some impair it.
For example, watching cat videos or taking your dog for a walk can elevate your mood. Whereas, competing demands for your time and dealing with loss and failure can lower it.
"Pay attention to your stress level. We all experience stress at work. When stress levels get excessive, it impacts physical and mental health, so do things to mitigate stress," says Darcy Gruttadaro, Chief Innovation Officer at the National Alliance on Mental Illness (NAMI).
"When work activities your stress, do things to calm down and counter-relief some of that stress," says Joanna Hobson, Director of Helping Hands Georgia. "Don't overwork yourself. Finish tasks at the pace you can. Finish the day, and then go to the next day."
Finding a quiet space or meditating can help, as can listening to music, although research has shown quiet to be far more effective than music at relieving stress.
Write down what works for you and schedule them. Practice pre-emptive mental health practices.
"Just as people exercise and eat well to avoid a physical health issue, you should engage in activities that will help you take care of your mental health," says Gruttadaro.
Of course, there's a lot more you can do outside the workplace to improve your mental health inside the workplace. Consider the Five F's: family, friends, faith, fun, and food. People who have healthy relationships with their family and friends, engage in faith-related activities, make it a point to have fun, and eat nutritious and enjoyable food, are more likely to have less severe and less frequent mental health concerns.
3. Be a mental health advocate
People need to advocate for their mental health, and this can easily be done in ways that don't reveal personal information or are confrontational.
At the very least, you should talk to your manager about worksite conditions that negatively impact your mental health. When talking to them, use language that shows you are a problem solver and cooperator. "When I experience (blank) at work, it makes me (feel blank), which negatively affects my performance. Is there something we can do about it? I've come up with a potential solution, but I'm also open to hearing what come up with."
You can also ask your employer what they plan to do to promote mental health at the workplace during May, which is mental health month. Then volunteer with mental health initiatives at work to show your employer you're a mental health leader.
4. Seek help when needed
People sometimes need help with their mental health. There's no shame in that. You wouldn't expect someone to cast their own broken arm or perform radiation treatment without a medical professional, so why rely on self-care for mental health conditions when you lack the training to do so?
"Seek help because it can get in the way and cause issues at work. People often prefer to remain silent about their mental health, because they don't want to admit they're having a mental issue," says Hobson.
Finding help for a potential mental health condition can be intimidating. If you're unsure how to assess your mental health and want to screen yourself for one or more mental health issues (such as depression, anxiety, ADHD, addiction, eating disorder, etc.), but don't want to talk to someone, you can take a mental health assessment at the Mental Health America web site.
According to NAMI, the average delay between symptom onset and treatment is 11 years, so it's not uncommon for people to suffer from a mental health condition for more than a decade before seeking help or getting a diagnosis.
"The responsibility for employee mental health doesn't fall only on employees. Employers have incentives in providing a workplace that promotes good mental health, most notably to enhance productivity, performance, and retention," says Gruttadaro.
Subscribe to The Utility Expo monthly newsletter to receive more industry insights like this.  
Read Next
Identifying and Managing Stress