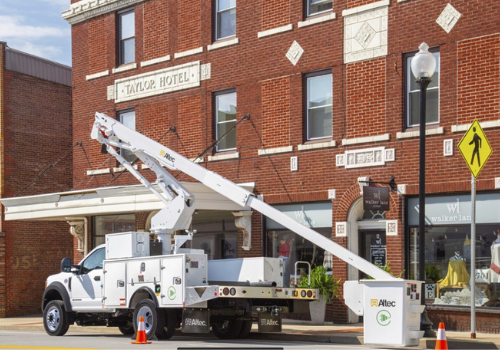 As more advanced technology continues to be incorporated into aerial devices, added safety features are becoming almost undetectable by the equipment operator.
"We're trying to provide safety features that are almost 'invisible' – that don't change the way an operator has typically interacted with the truck," says Ryan Hulleman, distribution aerial market manager for Altec. "It should be so seamless that it is 'behind-the-scenes.'"
Historically, the equipment design in this sector has focused on a specific working height, side reach and material handling capacity. However, the focus has shifted to put emphasis on how an operator interacts with the machine to do their work, Hulleman points out.
Improving Safety, Control Access
Terex's launch of its Positive Attachment Lanyard Device (PAL in a Bucket) for LT40 trouble trucks and XTPro tree trimming aerials at the International Construction and Utility Equipment Exposition (ICUEE) 2019, now known as The Utility Expo, is another improvement enabling technologies that support safe work practices, says Joe Caywood, director of marketing for Terex Utilities and management committee member for The Utility Expo.
It was developed after customers surveyed in 2018 requested a solution that helped reduce risk by alerting the operator with a visual and audio alarm when the safety lanyard isn't hooked to the bucket attachment point. 

"Even the best operators will occasionally forget to attach their lanyard to the bucket," Caywood says. "They are often dealing with many other factors, such as storm response, but at the same time they're putting themselves at risk if they forget."
Altec has announced a Lanyard Detection System as a safety feature that promotes safe operation by ensuring line workers are 'clipped in' while conducting work from the platform. This operator aid helps reduce the risk of falling form the platform by reminding users to attach their lanyards prior to working at height.
Improved machine ergonomics can also help operators more easily access the machine controls in a repeatably safe manner. Accessing digger derrick control stations can be challenging, often requiring the operator to climb up stairs or walking on the truck's body compartments, Hulleman says.
"It can be difficult to access the riding seat controls on traditional designs, and right now the market is really emphasizing machine usability and easy access to controls," he explains. "The improved access to the riding seat gives the operator an easy path to the derrick controls, reducing the need to climb up on compartment tops that may be slick or icy."
A new boom side entry riding seat – currently available on the D3000E, DC, and DT65E models and planned availability on additional models – provides easy access to the control station along with ample grab handles for maintaining three points of contact during ingress and egress.
In addition, the derrick Opti-View riding seat is an available front-entry control station option that provides an unobstructed view of the jobsite. The Opti-View uses multi-axis joystick controls for enhanced multi-functioning capability. The Opti-View riding seat is available on the D3000E, DH-E and DT65E and will be offered on additional derrick models in the future, Hulleman says.
Creating Flexibility that Support Generational Workforce Shifts
Having celebrated its 75th anniversary of digger derricks in 2019, Caywood notes, "There are a lot of things that Terex has learned about designing a digger derrick after 75 years in business. We know we have to look at emerging trends, and right now, that's flexibility with controls."
Traditionally, a digger derrick had smaller selection of control options such as a command post riding seat, handle rack controls beside the pedestal and some corner mount consoles. 
"As we see a generational shift in the workforce, there are more operators that prefer controls like those on an Xbox they grew up playing, so flexibility to offer multiple radio remote controls options that easily integrate and can be readily added is important," Caywood says. "We see many more control types and locations being offered with radios as a plug-and-play option."
Larger Aerials, Smaller Chassis
In recent years, Caywood says Terex customers have expressed interest in putting larger aerials on a smaller chassis – whether it be for reducing initial purchase price or providing features such as increased maneuverability or access.
To that end, two of the company's recent product launches included right-sizing the aerial to work on a requested chassis. It developed a series of transmission articulated and telescoping aerials that included an 80-ft. working height that could be mounted on a chassis that was less expensive and lighter weight than traditional transmission units. In this case, the TL80 aerial was designed to support installation on a 33,000-lb. GVW chassis.
"When selecting a chassis with the goal of finding the smallest one, it is important to review the remaining payload capacity and truck setup to support an adequate load," Caywood explains.
Terex also recently launched an aerial device to be used for trouble truck applications. This launch coincided with the chassis manufacturers expanding their product offering to give more payload capacity on newer super-duty models such as the Ford F600, International Navistar CV Series and Chevy 6500HD. 
"The key features of the new Hi-Ranger TL48 aerial device include achieving 53 feet of working height on a super-duty class vehicle, while maintaining the required payload and jib capacity to get the job done at the desired boom angle," Caywood says.
Technology During a Pandemic
Using digital solutions during the current SARS-2 novel coronavirus pandemic (COVID-19) has also become more important than ever, Caywood explains. With social/physical distancing and quarantines in place, both customer factory visits to inspect equipment prior to shipping and traditional onsite jobsite visits from equipment manufacturers post purchase have needed a different approach.
With travel limitations, there have been some challenges to providing the typical high-level of customer service. However, Caywood says if they can't be onsite in person, going on the jobsite via video has provided a temporary, alternate solution.
"Pre-paint customer inspections means that oftentimes the customer will come to the factory and do a walkaround to look at the truck and make sure it is built the way they want," he says. "Sometimes the crew comes and adds features after the inspection. Digital tools have helped to allow customers to perform a virtual walkaround and still customize a truck to meet their needs."
The Internet of Things (IoT) – in short, devices that "talk" to each other – is also playing an important role during the pandemic. Terex's Fleet Horizon customer portal is enabling customers to log in and get actionable information on their trucks, including transaction history and even optional telematics for location, utilization and chassis related details such as mileage, engine and Power Take Off (PTO) hours. (PTO is a device mounted on a work truck's transmission that transfers an engine's mechanical power to another piece of equipment and is important when using auxiliary equipment.)
"It's a portal where we can connect equipment and create dashboards for customers to help them manage fleets," Caywood explains. "We still have an industry that likes to pick up the phone but this gives them an easy place to transact equipment, parts and service needs through a new e-commerce platform
The portal also enables customers to leverage information for behavioral training and coaching. "We can connect through our portal as a training tool," Caywood says, adding that "some information is currently available, and some is still evolving as more customers are brought on board."
Leveraging Customer Feedback
Caywood refers to its Voice of Customer program as a three-legged stool: on the jobsite or feet on the streets with customers understanding their work practices and challenges; leveraging dealers, partners, its salesforce and other stakeholders; as well as specialized, standalone customer councils.
At ICUEE 2019, Terex introduced the Optima Series of distribution aerial devices (Optima TC, Optima TCX, Optima HR and Optima HRX)after gathering customer feedback. In fact, customer voice so greatly influenced the equipment line, the name reflects it.
"The Optima is a good story," Caywood says. "We had to optimize many features and what was really important to the customer. We named the product line Optima because it was a balancing act to optimize all the customer inputs and incorporate all the features our customers needed and wanted."
Crews wanted more ground access where they could bring the bucket at or near the ground for ease of access and bucket cleanout. They also wanted lower travel heights, more side reach so crews could set up the truck once and have an extended reach to access the pole and line, improved boom speed and improved payload capacity.
"It was challenging," Caywood points out. "If you focus too much on side reach, you'll build an aerial device that is too heavy and lose payload. We met with a group of customers on a regular basis throughout the development and used it as a forum to get input."
This input also influenced Terex's Load Alert (LAS) system for aerial devices, when a specific customer was looking for a solution to alert them if a boom was potentially loaded greater than the load chart. 
Although early adopters of the system are engaged, it hasn't yet achieved industry-wide adoption. "It's new and takes time," Caywood says. "However, we expect it to continue and gain adoption as an aid to support existing work practices.
Altec's Load Monitoring System helps prevent structural overloads by communicating the percentage of rated load on the platform and/or boom to operators. Aerials equipped with load monitoring provide the operator with real-time visual and audio information on the load being applied to the platform and/or boom. Overload events can be transmitted wirelessly to a fleet manager's desktop computer, laptop or cell phone.
"Load monitoring can help protect the user and extend machine life by ensuring that the weight being lifted is within the machine's capacity," Hulleman says. "The system is designed to communicate to the operator when a load is approaching the machine's limits, to help avoid a potential overload."
Platform load monitoring is currently available on the AT40G, L42A and AT48PE models. Platform and boom load monitoring is available on AA55, AA55E, and AN55-OC models.
Cost of Ownership and Replacement Parts
In addition to asking for safer work trucks that are more productive and efficient, customers are also asking for lower maintenance costs, Hulleman points out. Operator input and product focus groups are also driving the digital movement surrounding customer portals.
After a customer group about service aerial devices, Altec gained a better understanding of total cost of ownership (TCO).
"As equipment designers, we tend to think mostly in terms of productivity – faster booms and more pitch," Hulleman notes. "In reality, the cost of maintaining and servicing equipment is a big variable. We are really making efforts to try to better understand the TCO equation and how different models stand up against each other."
For example, a customer product focus group conducted on service aerial devices to better understand TCO revealed major variables in the cost to maintain them. One way to reduce TCO is to reduce cost of replacement parts, Hulleman says.
"For a given part, it may be how easy it is to access, how long does replacement take or how difficult to put back together," he explains. "A significant percentage of service cost is the labor so it's important to look at how you can increase access [to a part] or make it easier to work on."
This is somewhat data driven, Hulleman explains. By understanding which parts are being replaced, how often and the cost to do so, engineering teams can work with product service groups and use this information to create concepts that can address these issues. 
"If a customer is going to replace something, we want to understand the impact of how switching out that product is going to affect ownership costs," Hulleman explains. "There is the acquisition price, and then there are the seven to 10 years while using the asset."
Moving to Electric
For 2021, Altec plans to emphasize its Jobsite Energy Management System (JEMS) product line, a mild hybrid that uses battery power for the aerial lift and in-cab accessories, including heating and cooling electrically.
New in 2020, the updated JEMS SE and LE ePTOs are available on the AA, AM, AN, AT, LR, and TA aerial models. The JEMS S cabin comfort model is available on nearly all Altec products including digger derricks.
"Idling is very hard on diesel engines and can lead to increased aftertreatment system maintenance costs. This solution automatically allows for quiet jobsites, where the crew can easily communicate, even while working from the platform," Hulleman says. "It promotes safer work while helping customers save fuel and reduce emissions."
Terex is also aligned to help utilities meet sustainability goals and will be demonstrating their hybrid units powered by the Viatec Smart PTO systems at The Utility Expo 2021, Caywood says. These new offerings are available for the majority of Terex trouble truck aerials, distribution aerials and digger derricks. 
"It provides engine-off cabin comfort and power to supplement the chassis battery system as well as exportable power for task such as charging work tools," Caywood says.
Additional Resources:
View Video Highlights from our 2019 Show:
Photo courtesy of Altec and Terex Utilities.
Join thousands of industry peers who receive utility construction industry news and trends each week. Subscribe to The Utility Expo Newsletter.