Terramac's line-up of customizable rubber tracked crawler carriers, designed specifically for utility and powerline work, were on display at The Utility Expo 2021.
Compared to standard carriers, Terramac's purpose-built utility carriers - including the RT7U, the RT14, and the RT9U on display - have a unique extended frame to accommodate oversized support equipment and various hydraulic pump drive configurations to support customization. This frame adjustment simplifies the mounting process to accommodate a variety of utility support equipment, including aerial devices, digger derricks, lineman winches, vacuum excavators, and service cranes.
"The utility market is one of the most steady users of crawler carriers and we wanted to make sure we were providing them with the options they needed to get their jobs done more efficiently," Matt Slater, VP of Sales at Terramac said during the show.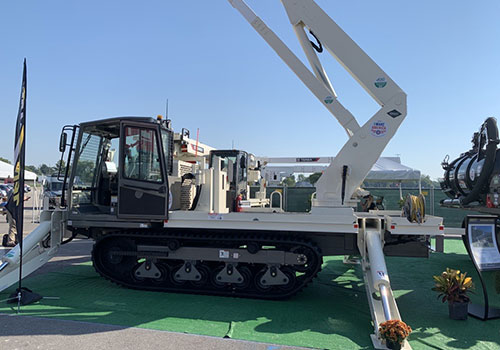 With this goal in mind, Terramac unveiled the all-new RT7U, customized for the show with a Versalift VST-7500 aerial lift.
 "This unique customization provides the height to tackle almost any size pole in a compact size which gives contractors the ability to work in tight spaces," Slater said. "This gives them the ultimate versatility for either aerial material handling or personnel lifting."
Terramac's robust RT9U and heavy-duty RT14 were also on display at the show. The RT9U was configured with a Terex Commander 6060 digger derrick, providing contractors an all-in-one equipment solution for safely and efficiently constructing, maintaining and restoring power. 
The Terramac RT14 was customized for The Utility Expo with a 5200 cfm Supervac; this specialty straight frame unit is a powerful combination of a vacuum excavator and rubber track carrier that streamlines the process of locating underground utilities. 
"We create these units for different versatile applications based on customer demand," Slater added. "We really listen to customer demand and try to find different ways to help them with as many models as we can."
Terramac crawler carriers can be utilized for traditional utility projects, as well as for renewable wind and solar energy generation applications.
Terramac's innovative rubber track technology and low ground pressure on these unites enables crews to easily maneuver through adverse ground conditions and climb faster on steep and hilly terrain.
Units are sold and rented through Terramac's dealer network.

Subscribe to The Utility Expo monthly newsletter to receive more industry insights like this.