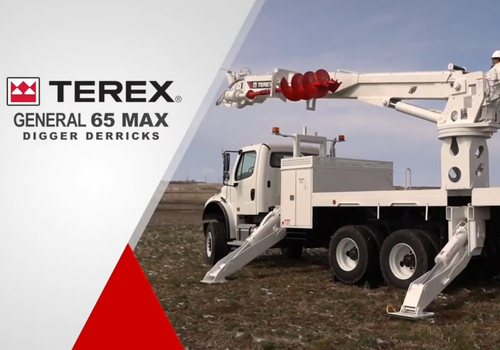 Terex, a global manufacturer of materials processing machinery and aerial work platforms, showcased its new General 65 MAX, the strongest transmission digger derrick, at The Utility Expo 2021.
One of the things that sets Terex's General 65 MAX apart from its competition is that is the strongest digger derrick in the transmission market as measured by the load chart. That is according to Joe Caywood, the company's Director of Marketing and Product Support.
This truck, which has a long legacy, has greater capacities through all boom angles, especially in the work zone in low boom angles, digging, and lifting.
The new model is "really focused on work zone capacity," explains Caywood. All boom angles can be set up at once so the General 65 MAX does not have to be repositioned.
A distinctive feature of the General 65 MAX is the filament wound fiberglass third boom section that provides dialectic insulation. 
He discusses how the truck was redesigned and not based on the crane, as is typically done. A crane is designed to have a high boom angle and lift a lot, he notes. The General 65 MAX is optimized for greater strength in really low and high moment boom angles.
He also describes how the new transmission digger derrick can outperform its competition by 60 percent in some boom positions.
To learn more about the latest product advancements in the utility industry, visit The Utility Expo's YouTube page. 
Subscribe to The Utility Expo monthly newsletter to receive more industry insights like this.  
Read Next
Video: Load King Stinger PL-180 Aerial Lift Showcases New Industry Features (As Seen At The Utility Expo 2021)
Video: The Future Of Volvo's Construction Equipment Is Electric (As Seen At The Utility Expo 2021)
Video: Operate Your Loader With A Smartphone With The Bobcat MaxControl System (As Seen At The Utility Expo 2021)