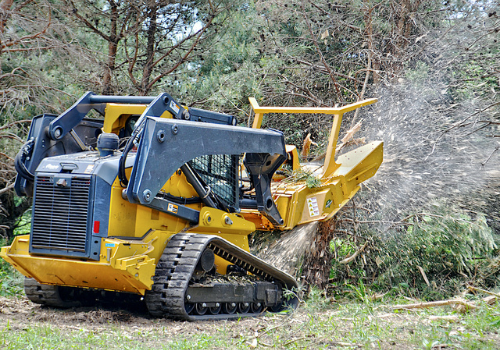 Keeping utility rights-of-way clear of trees and brush is a never-ending job. For utilities looking to do it more efficiently and productively, mulchers are more than up to the task.
Mulchers use a rotary drum or disc fitted with teeth to cut and shred vegetation. Mulching attachments add greater capability to equipment such as skid steers, tractors, excavators or compact track loaders — especially for smaller projects and selective clearing. Dedicated heavy-duty mulchers are engineered to maximize productivity on the biggest land-clearing jobs.
"Mulchers can handle a broad range of utility applications," says Lee Smith, product manager at FAE. "They clear the way for building new transmission, distribution, oil and gas lines. And they're ideal for maintaining those right-of-way areas on an ongoing basis."
"Storms and natural disasters can leave people without water and electricity for days," says Ryan Bricker, product manager at Fecon. "Often that's because fallen trees and debris keep crews from getting on site for repairs. Clearing a path is what mulchers do best. The sooner you can get in to restore the power, the sooner people can get back to their everyday lives."
Advantages of using mulchers for utility work
Mulchers offer a more sustainable way to remove trees and overgrown vegetation. They distribute shredded material over the cutting area with minimal disturbance to the soil structure. The thick layer of mulch left behind stabilizes the soil and protect against erosion. As the mulch decomposes, it naturally returns nutrients back into the ground.
Additionally, mulchers can help utilities improve efficiency and productivity. A single mulcher may be enough for many right-of-way clearing or maintenance jobs — eliminating site prep, cutting, felling, hauling and cleanup.
"Mulchers are capable of working by themselves," says Rob Pentesco, product manager at Tigercat. "They can operate independently, minimizing the need for bulldozers, haulers or other equipment. Less equipment means fewer operators, not to mention lower fuel and transportation costs."
"Asset utilization is critical for utilities," says Matt Nelson, product manager at Diamond Mowers. "You want to get as much use out of a skid steer or excavator as you can. You can go in with one piece of equipment and have a finished product in one operation."
Matching the equipment to the job
To optimize efficiency and productivity, it's important that utilities match the right equipment to the job and terrain at hand.
"For smaller jobs, smaller equipment is perfect," says Nelson. "Skid steers or compact excavators can get in, do the work and get out quickly. In situations like that, big equipment would be a poor fit. But more powerful, dedicated mulchers really shine on larger jobs, working for miles and miles."
"Site prep, clearing out all vegetation to make way for a new utility line, tends to involve larger trees and more dense brush," says Bricker. "That typically takes larger, higher-horsepower machines to do the job most efficiently. A right-of-way maintenance contract, on the other hand, is different. You're going over land that's already been cleared once. The trees are smaller, and the growth isn't as dense. So smaller equipment makes sense."
"Terrain conditions are a key part of the equation," says Pentesco. "On rolling terrain with firm soil, wheeled carriers are preferred for keeping capital and operating costs down. While tracked carriers have higher operating costs, they're preferred on steep or soft terrain where ground pressure is critical. Soil conditions influence tooth selection, as well. Carbide-tip teeth, for instance, offer great wear resistance when working in highly abrasive sandy soils. All manufacturers offer a variety of teeth, depending on the application."
"You also have to consider the desired finish and productivity targets," says Nelson. "Different types of projects call for different finishes. Getting a fine finish — leaving behind smaller-sized mulch — is more expensive in terms of time and equipment. That makes sense when you're working in someone's backyard. But you don't need the same level of finish in more remote locations. The better you understand the equipment, terrain and finish requirements, the better you can choose the right tool for the job."
Hydraulics: the power behind the tool
Ultimately, a mulching attachment is only as good as the hydraulics that power it.
"There's nothing more important than hydraulics configuration and compatibility," says Smith. "Flow is essential to maintaining the proper rotor speed. Pressure is where we get the power and torque from. When you're getting into bigger material, our variable motor allows you to apply more torque to the rotor. So you can power through larger material and recover faster when needed. Making sure equipment is well-matched to the flow and horsepower needs of a mulcher is one of the first things we train dealers on."
"The goal is to direct as much engine power to the attachment as possible, and do it as efficiently as possible," says Pentesco. "Our mulcher attachment circuit works in conjunction with built-in control logic features to ensure we use all available engine power. When hydraulic pressure rises, the system can automatically back off on the drive circuit to slow the travel speed — maintaining a constant feed rate and consistent productivity. It's designed to help the head do its job."
"Skid steer manufacturers are engineering higher flow and pressure into their product lines," says Bricker. "The apex is around 45 gallons per minute and 4,500 psi. They're becoming better and better mulching machines. That said, high-flow skid steers are definitely in the minority. That's why we offer a standard-flow mulcher — for utilities that may not need a high-powered mulcher, but want to expand their reach and get jobs they may not have had an opportunity to bid before."
"Another vital part of hydraulics is cooling capacity," says Smith. "A skid steer is engineered to do a certain job. When you put a mulcher on it that's turning hydraulic fluid over twice as fast, you have to make sure the system's able to deal with that. We offer both roof-mounted cooling units and coolers that install within the attachment frame to assist the carrier with additional cooling if needed. The last thing you want in the middle of a job is to overheat."
What's ahead for mulchers
The trend toward greater performance and productivity isn't likely to slow down anytime soon.
"The biggest change I see is the power available from carriers," says Nelson. "Mulching with skid steers has become big business. Manufacturers are taking note — giving us more power to work with and better cooling systems to handle what we're giving them. A disc mulcher is extremely productive. But it requires a lot of horsepower to work at peak efficiency."
"We never stop looking for new ways to help utilities get more from their equipment investment," says Pentesco. "Whether that means improved wear resistance components, greater operator comfort to reduce fatigue or telematics to monitor uptime and service requirements — it all starts with understanding customer needs."
Brands Featured in this article:
Join thousands of industry peers who receive utility construction industry news and trends each week. Subscribe to The Utility Expo Newsletter.