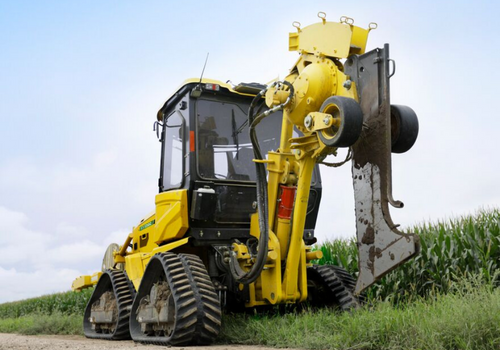 There are several ways to cut a trench, but none are more efficient than a trencher. "It's an extremely productive machine and the spoils you generate are typically ground up, so they are easier to handle, whether you are padding pipe or hauling them away from the jobsite," says Steve Seabolt, Product Manager for Ditch Witch, heavy duty tractors. In the utility industry, ride-on trenchers are used to lay pipes for water, electric and gas lines, or fiber optic cable. For larger trenches used in pipeline construction, track-type trenchers are the best solution. Contractors and utilities need to be aware of the soil type they are digging in, as well as federal, state, and local regulations that determine the width and depth required for trenching.
While a chain trencher is the most common attachment for either type of trencher, a variety of attachments allow you to equip your machine for specific soil conditions, trench sizes, or applications. "Knowing the soil conditions and your trench requirements helps narrow down the type of attachment you will need," says Ed Savage, Product Manager for Vermeer.
While most users typically don't change attachments frequently, Savage notes that newer trencher attachments can be changed out in about an hour, making it easier than ever to get the right tool for ground conditions and the task at hand.
Attachments for Ride-On Trenchers
Sliding Trencher Attachment - for flexible positioning
While most trenchers are mounted in the center, a sliding trencher attachment allows more flexibility in positioning the trencher. "The sliding or traversing trencher allows you to trench right up against a wall or keep the trencher away from a structure," says Seabolt.
Vibratory Plow or Cable Plow Attachment - an all-in-one solution for small-diameter cable
When you want to minimize surface damage all while installing small diameter cable, consider a vibratory plow or cable plow attachment; see above image. As the machine moves forward, the vibrating action separates the ground in front of the blade, reducing the force required for the blade to cut the ground. "It cuts the soil like a knife," says Seabolt. Pipe or cable is then pulled in behind. According to Savage, this method is appropriate for direct-bury lines such as broadband or fiber-optic cable. Because no trench is dug, the resulting groove doesn't require backfilling. Running a tractor tire over the groove will restore the surface.
Backhoe Attachment – to start and finish a trench
A backhoe attachment works well in tandem with a ride-on trencher. It's often used to start and finish a trench, especially when working near fencing or other structures, where precise digging is required. This versatile digging tool can perform a wide range of tasks.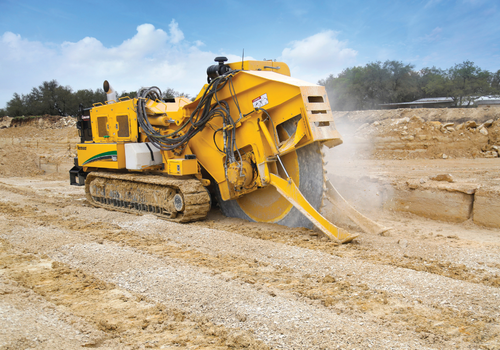 Trencher/Plow Combo – for enhanced flexibility
When you can't decide between a trencher and a vibratory plow, this attachment gives you the best of both worlds.
Rockwheels or Saws – for cutting through hard surfaces
If your job requires cutting through concrete, asphalt, or soft rock, a rockwheel or saw is the trencher attachment you need. The circular blade is mounted on the rear of the tractor and depending on its size, a rockwheel or saw can dig a trench from 4 to 18 inches wide and up to 52 inches deep.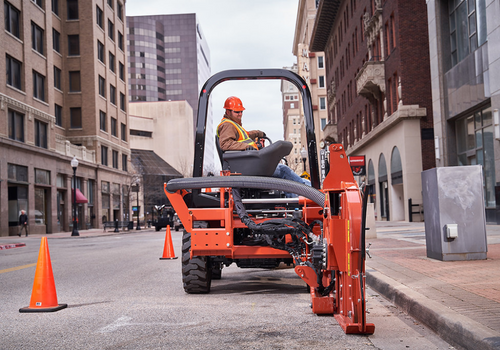 Microtrenchers – the tool of choice for fiber optic and broadband
Savage and Seabolt agree that microtrencher sales have grown along with the fiber-optic market. Similar to a rockwheel, the microtrencher is ideal for applications where you don't need as big of a trench. It cuts shallower and narrower than a rockwheel, with widths, ranging from less than half an inch to three inches and depths of 3 to 26 inches. A trailer-mounted vacuum removes the spoils from the trench.
Reel Carrier Attachment – keeps cables organized
Designed to carry and unroll cables as you dig, reel carriers can be a smart choice for contractors who want to lay cable as they trench. While laying cable at the same time you trench can slow the trenching process down, it can increase overall productivity on the job.
Attachments for Large Track-Type Trenchers
Rockwheel Attachment – for cutting through rock
According to Jeff Utter, Product Manager for Vermeer's track-type trenchers, a chain trencher rips smaller rocks out of the ground, but a rockwheel for a track-type trencher has a higher RPM which chips at the rock, with the end result being a smaller particle size distribution than a chain trencher. The larger rockwheel attachments along with the large track-type trenchers can handle solid rock. Vermeer's rockwheel attachments can dig a ditch 3 inches to 10 inches wide at depths up to 48 inches.
Bucketwheel Attachment – to increase productivity in soft soil
A bucket wheel attachment is designed for the installation of small-diameter cross-country pipelines and helps increase productivity in soft soils.
Load out Conveyor- for material transport
While a conveyor is often classified as an accessory rather than an attachment, it is a useful way to collect material from the cross conveyor and transport it to either a truck or back to the trench.
Boost productivity with trencher attachments
While the chain trencher is the most commonly specified attachment, productivity can be improved with the use of attachments built specifically for different soil types and applications. Whether you are running a ride-on utility trencher or doing pipeline work with a large track trencher, your machine can do more when equipped with the right attachment.
Subscribe to The Utility Expo monthly newsletter to receive more industry insights like this.  
Read Next