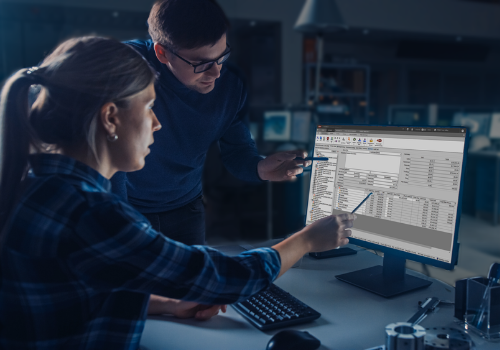 Bidding is critical to the success of every construction company. An accurate bid can make the difference between a good job and a bad one. Estimate too high and your bid won't be accepted, which translates into lost opportunity. Estimate too low and you may get the project, yet lose money on it.
"It's easy to win a job," says Kevin Booth, chairman of the Construction Financial Management Association and chief financial officer at WestCor Companies. "But you also need to account for profit margin. That's the goal of bidding: to win profitable work."
Part of the challenge is the fact that no two projects are exactly alike. They're rarely cookie-cutter. Estimating also takes time, adding to the pressure of fast-approaching bid deadlines. To improve the construction bidding process — and ultimately, the bottom line — companies are increasingly turning to specialized estimating software as an alternative to spreadsheets.
What Makes Bidding So Difficult
Putting together an accurate construction bid calls for estimating the quantities and costs of all the materials, equipment and labor needed to complete the project. While that sounds relatively straightforward in principle, it's usually far more complicated in practice. Depending on the size of the project, estimates may take weeks or months to prepare.
"The bidding process begins even before you start working on the estimate itself," says Pat Reitz, product manager at B2W Software. "Most of the time, construction companies have the opportunity to bid more work than you can actually take on. So first, you have to ask yourself: Is this work we actually want to do?"
"One category that often gets overlooked during bidding is indirect costs," says Reitz. "Are you accounting for office administrative expenses, insurance, or permit fees? If it's something that impacts your profitability, it needs to be in there."
"It's easy to forget about small tools and supplies," says Booth. "While these costs aren't big enough to itemize, they can still add up. The cost of equipment repairs and maintenance is another important one. Estimating the cost to operate equipment isn't enough. The longer the project, the more maintenance costs you'll have."
Where Software Makes a Difference
Two of the main ways that construction bidding software can improve the bidding process are accuracy and speed.
"An accurate bid depends on tracking the quantities and unit prices involved," says Booth. "Good estimating software allows you to break out this information according to the project specs. It locks down some of those variables, so you can cut down on mistakes and make sure every calculation is correct."
"Construction bidding software is specifically designed for what you're trying to do," says Reitz. "When you enter a number into a spreadsheet, it doesn't know whether that represents a quantity, cost, or production rate. Software's built-in intelligence helps you validate data — which is increasingly important as you get to larger, more complex estimates. With more accurate data, you gain a better understanding of the information you're working with."
"Because software does calculations automatically, all within one database, it gives you the ability to turn accurate bids faster," says Booth. "You can quickly review estimates or make changes and instantly update the entire bid. Faster bidding means you can bid more projects accurately, generating more revenue for the company."
"Once you've built cost structures and templates with pricing built in, you can plug those into each estimate," says Reitz. "That's a big time-saver. And it's simple to apply new quantities or adjust pricing across the board depending on the requirements of each specific bid. You let the software manage the data, rather than manually making changes for every single estimate you do."
Selecting the Right Software
When evaluating construction bidding software options, many companies lean toward the one with the most features. That's not necessarily a good indicator of whether it's the best choice.
"There are so many kinds of software because there are so many kinds of construction companies," says Booth. "Look at the types of projects you do — whether it's industrial, commercial, municipal, or residential. There are different software options that fit that kind of work. Some estimating software is ideally suited to general contractors, other software is developed just for trade contractors."
"Be sure to consider your relationship with the software company," says Reitz. "The software you choose will be a linchpin of your business moving forward. Working with a developer who wants to see you succeed only makes sense."
"From the beginning, put together a team of key stakeholders to lead the selection process," says Booth. "You should of course include estimators, the most important end users of construction bidding software. But it's also good to get input from others throughout your company — such as accounting personnel, superintendents or project managers in the field."
"Ask for references during the selection process," says Reitz. "Talking to actual users gives you an unfiltered view of the good and the bad. Typically, we can provide references based on the region where a customer is located and the type of work they do."
Tips for Software Implementation
Streamlining the construction bidding process doesn't end once you've decided on the right software for your business. The steps that follow are equally crucial.
"It's a good idea to involve the same team of stakeholders in both selecting and implementing bidding software," says Booth. "Their very first task should be to define the goal. What does it mean to say implementation is done? What does success look like? If you don't establish that up front, you won't know."
"We don't just sell software," says Reitz. "Installation and training are always part of the deal. We won't leave you hanging. When you have someone walk you through collecting the information you need, or building out the database, that takes some of the stress out of the process. You don't have to know everything from day one."
"Finally, don't try to do it all at once. Implement in phases," says Booth. "Being too ambitious can be disastrous. Once you're fully up to speed, then take the time to go back and look at everything you're doing. Chances are, your new estimating software will require you to make some changes in your procedures. If you approach the process with an open mind, that's when you'll see the biggest impact on revenue and profitability."
"Good estimating software should work the way estimators work," says Reitz. "Some solutions are part of larger accounting software packages. But what makes sense from an accounting perspective may not be a good fit when preparing project bids. You want software that follows the fundamental processes of construction estimating — so when estimators make the transition, the software is intuitive."
Featured in this Article:
Join thousands of industry peers who receive utility construction industry news and trends each week. Subscribe to The Utility Expo Newsletter.