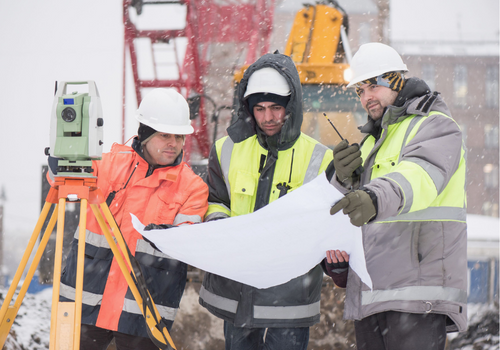 Much of utility work is completed outdoors and is highly influenced by the weather. When working during the harsh months of winter, workers should have the following equipment to be productive all season.
APPAREL
Protective clothing worn throughout the rest of the year can't protect you from getting cold and wet during winter months. You will need to switch to personal protective equipment (PPE) that is layered, weather-resistant, and waterproof.
Coats
For cold, wet conditions, Carhartt recommends its Montana line. "The Montana series – which was inspired by Montana ranchers – is designed to be warmer and more durable," Debra Ferraro, Vice President of Global Product Development and Technical Design. "Each garment in the Montana line features different Carhartt technologies including Wind Fighter technology and Rain Defender Durable Water Repellent, so these jackets are designed to better repel rain, block wind, and stop cold. Most products within this line come equipped with synthetic down insulation plus a sherpa fleece or quilt lining in the upper body to seal in heat."
For those who work in extremely cold conditions, Carhartt has its Yukon Extremes collection which is designed to be warmer, tougher, and more flexible than other cold gear, without adding weight.
"Yukon Extremes are the warmest Carhartt makes and is designed to deliver protection and performance in the coldest working conditions on the planet. This line implements the latest in apparel technology including a 500-denier CORDURA fabric shell and 3M Thinsulate insulation for many of the pieces," says Ferraro. "The Yukon family of gear is purpose-built to conquer wind, rain, sleet, snow, and other winter elements. To ensure the products stand up against the elements, Carhartt incorporated rigorous testing methods throughout the design process."
Pants
For cold, stormy conditions that require warm, waterproof clothing, Berne now has the COASTLINE Storm series. "These are technical, lightweight garments designed for cold stormy weather," says Paul Harbour, Director of Sales, Berne Canada.
"We make use of a seven-ounce, 100-percent Nylon Oxford shell combined with a heavy-duty quilted polyester taffeta quilted insulation to produce a completely Waterproof garment that is also warm to -1o Celsius. This fabric is incredibly strong and durable yet breathable. The adjustable waist and hidden elastic leg cuff easily fit over pants keeping you dry while allowing maximum airflow."
Coveralls
Coveralls are better at preventing exposure to cold than wearing two separate pieces. "For extreme cold, the Berne Icecap collection is perfect. They feature CSA Taping that is Z96-15 compliant. These garments are constructed from 1000 Denier Nylon Oxford which is waterproof, windproof, and tearproof. It features full-length, brass, two-way zippers, and triple needle stitched main seams."
Gloves
Keep your hands warm with the Berne GLV-10 Flip-Fop Glove Mitten which is constructed out of the same fabric as the Icecap Collection to provide the best warmth in extremely cold conditions. Or keep your hands warm and dry with the Berne GLV62 insulated waterproof grip glove to allow secure handling in slippery wet weather.
EQUIPMENT ACCESSORIES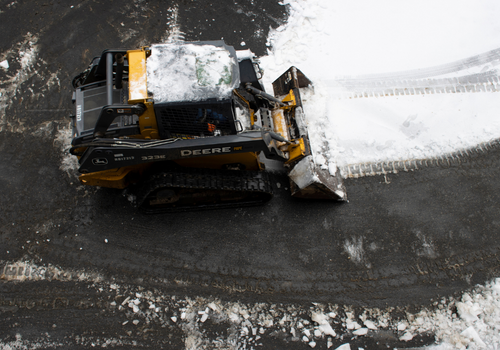 Much of the equipment remains the same during winter operations, except for a few equipment changes and additions.
Winter tires
Digger derricks, boom lift trucks, and most other outdoor, street-driven utility vehicles should have winter tires to decrease the risk of accidents. These are a must-have in the winter!  
Compact track loaders
Skid steer loaders have wheels that typically don't work as well in snowy or icy conditions. Instead of putting winter tires on them, you may be better off using a compact track loader (CTL) for the season.
Snow removal equipment
Snow blankets everything, and often utility workers must remove snow from the ground, from sewer covers, or off electrical equipment. To make the job easier and more efficient, you will want at least one of the following:
Hand shovels
Hand brooms
Compact track loader broom attachments
Brushes
A handheld snow blower, or a snowblower attachment
Anti-ice spray, which can quickly thaw frozen vehicles, equipment, and tools
Protective covers
You can avoid needing to remove snow by placing a protective cover over the object or area. For example, putting a tarp over equipment at night can lead to faster morning start times, warmer engine temperatures (resulting in less fuel being used to warm the engine), and decreased equipment wear.
In trenching applications, placing plywood at the end of the day over the area you plan to trench the next day will decrease time the spent removing snow and will keep the ground warmer. Frozen ground requires more machine power, increases wear, and takes longer, so using plywood decreases fuel use, increases equipment longevity, and decreases the time required to complete tasks.
Ground engage tools
If the ground is frozen, you can more easily cut through it with either a ripper excavator attachment or a heavier-duty excavator bucket.
Larger equipment
Some contractors recommend using larger-sized equipment when needing to break ground in winter. Use an excavator with about 10 percent more horsepower than you do the rest of the year to break through the frozen ground more quickly.
Subscribe to The Utility Expo monthly newsletter to receive more industry insights like this.  
READ NEXT
6 Tips For Excavating And Trenching Frozen Ground
6 Crucial Tips for Prepping Your Utility Equipment for Winter