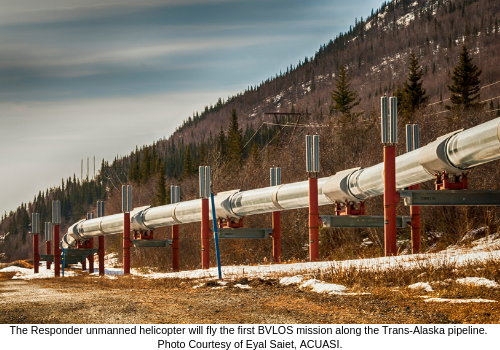 See the latest pipeline inspection equipment and drones at The Utility Expo 2021, September 28-30 in Louisville, KY. Learn More
It was less than three years ago that commercial businesses were highly restricted from flying drones. Part 107 of FAA regulations created the remote pilot certificate and established the rules for flying unmanned aircraft systems. Today there are more than 113,000 remote pilots and more than 900,000 commercially registered drones in the US. Utilities comprise a significant segment of the commercial market, valued at $9.4 billion in a PwC study in 2017.  
The oil and gas pipeline industry is especially interested in utilizing drones for inspection of gas pipelines across vast areas. That's because the current process for inspecting infrastructure in hard-to-reach places is both expensive and dangerous, requiring helicopters or airplanes to fly over the area. People are put at risk. While utilities want to fly drones over long distances, beyond visual line of sight (BVLOS), current law restricts them from doing so without a waiver from the FAA. However, under direction of the White House, the FAA has begun to accelerate safe drone integration into the airspace through 10 Unmanned Aircraft Systems Integration Pilot Program sites.
Monitoring of Oil & Natural Gas Pipelines Via Drone
The Alaska IPP project team, led by the University of Alaska Fairbanks (UAF) Alaska Center for Unmanned Aircraft Systems Integration (ACUASI) is currently conducting tests that will help develop the safety case for 24/7 monitoring of oil and gas pipelines via drone in remote and harsh climate areas. The first flights will use unmanned aircraft to monitor the 800-mile Trans-Alaska pipeline for Alyeska Pipeline Service Co. A similar study of the gas pipelines in Alaska's Cook Inlet will be conducted for Hilcorp Energy Company, another partner in the Alaska project.
According to Cathy Cahill, director of UAF' s ACUASI,  who is leading the IPP project, they will have to prove to the FAA that sense and avoid technology will keep the drone from colliding with another aircraft or obstacle, even if connections are lost. Wireless coverage is a challenge in remote areas for both controlling the aircraft and getting real time data back to the operator. "Streaming data is the biggest challenge," says Cahill.  "Getting the bandwidth to get the data back in high resolution in real time is difficult."
The goal is to fly above the whole length of the pipeline while recording and displaying the scene in real time. Cameras mounted on the drones will be looking for vegetative encroachment and oil leaks. Methane leak detectors and thermal cameras also can be mounted to drones, providing a whole new level of security. Through GPS technology the utility can locate the problem area so maintenance crews can be sent to the precise location. In addition to the cost savings and environmental benefits of losing less oil and gas from a leaky pipeline, Cahill says that drones may prove more cost-effective than manned inspections.
"The preliminary data shows there will be some cost savings despite the fact that four people are needed for flying beyond line of sight, compared to two for manned flights," says Cahill. The required team includes an external pilot, an internal pilot, a copilot who runs the payload, and a mission commander.
"Qualified drone crews can also be deployed rapidly and with great precision, whereas traditional manned aircraft typically require much longer lead times, have less flexibility, and are still high-risk," says Christopher Maier, UAV Pilot at ULC Robotics, Inc., a UAV services company that focuses on the energy and utility industries.
Drone Flying Restrictions
According to Michael Oldenburg, senior communications manager, for DJI North America, a leading drone manufacturer, oil and gas utilities today are flying drones within line of sight for routine visual inspections. This includes right-of-way inspection, asset inspections, surveying, and emergency response. "Companies are moving beyond visual data," said Oldenburg.  DJI's Matrice 200 drones accommodate this trend by providing side-by-side mounts for visual and thermal cameras. Some other product developments for commercial applications include ruggedized design, water and dust ingress protection and the ability to withstand freezing temperatures. 
"Qualified service-based companies are commonly used in the utility industry because of their specialized training, access to up-to-date aircraft and sensors, and experience working safely in challenging or high-risk environments," says Maier.
FAA regulations, airspace clearances, site safety risk assessments, equipment preparation, notifications, and personnel training must be taken into account before taking flight. Oldenburg says about 70% of utility firms are outsourcing their drone or UAS program to service providers.  However, he sees that trend starting to change. "The early adopters are now starting to bring those teams in-house because they see the value in it. They started small and now want to scale it out."
Even with the current flying restrictions drones have become an important tool for oil and gas companies. But usage is likely to expand given a recent announcement of new rules to allow unmanned aircraft systems (UAS), to fly overnight and over people without waivers under certain conditions. 
And if flying beyond line of sight is eventually allowed, you might say the sky is the limit for this new technology.   
Join thousands of industry peers who receive utility construction industry news and trends each week. Subscribe to The Utility Expo Newsletter.