New UTV Test Track Expands Demo Options; New Fourth Street Live! Concert Extends Networking.
 Register by August 23 to Save 50 Percent on Show Tickets.
ICUEE 2019 is just a month and a half away: don't miss this largest ever utility construction industry gathering with more new and expanded events.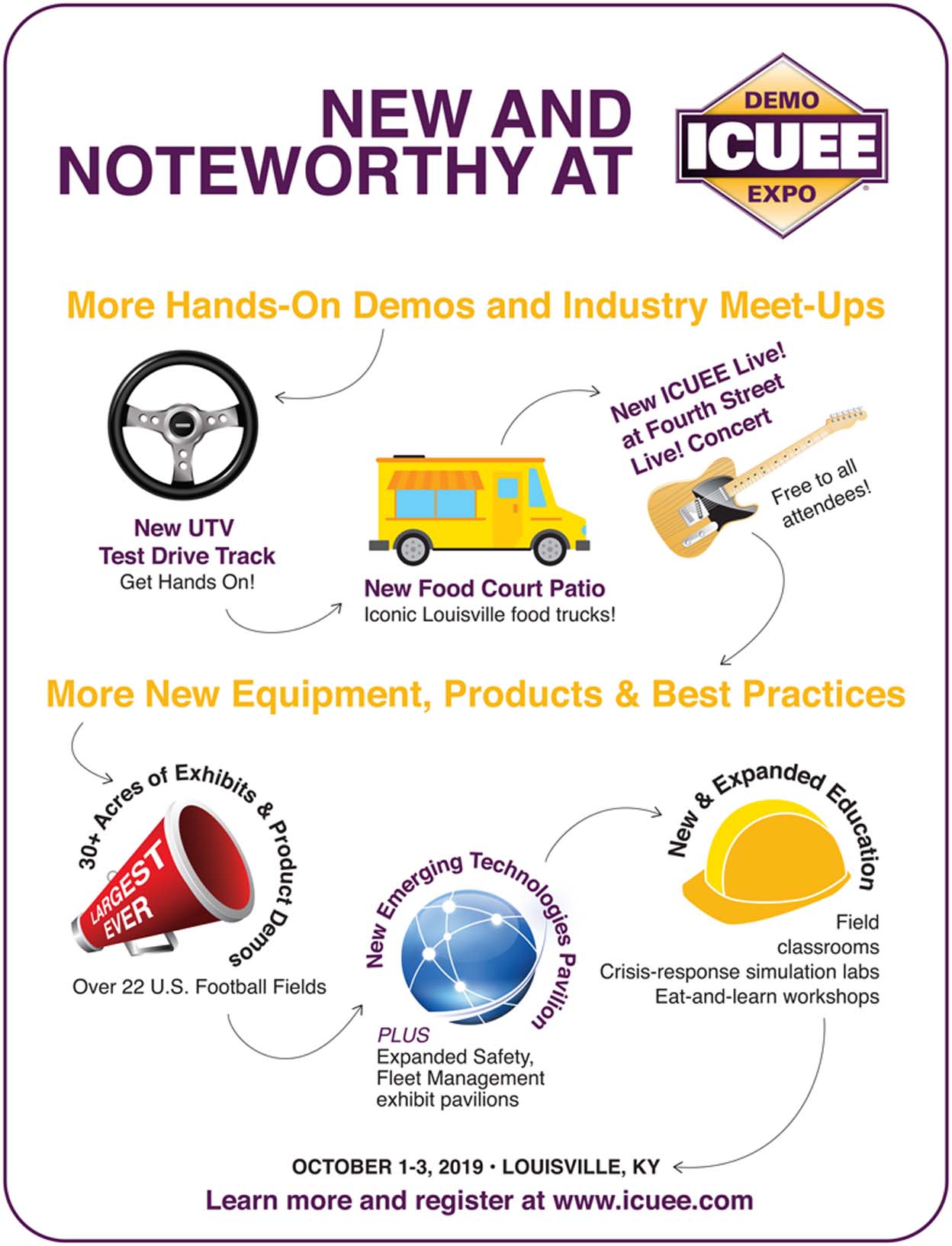 Register by August 23 to save 50 percent on tickets to the exhibition. Find show details and register online at The Utility Expo.
ICUEE, the International Construction and Utility Equipment Exposition will be held October 1-3 at the Kentucky Exposition Center in Louisville, Ky.
It is the leading event for utilities and utility and construction contractors seeking comprehensive insights into the latest industry technologies, innovations and trends, focused on electric transmission and distribution, telecom, cable, natural gas, water and wastewater, and vegetation management.
New Demo Area and Networking Concert
ICUEE 2019's new UTV Test Track puts attendees in the driver's seat with the opportunity to compare several models of utility terrain vehicles (UTVs) from three of the leading manufacturers, Caterpillar, Bobcat, and John Deere.  
This 80,000-square-foot area adjacent to the Underground Demo Lot (Area K) and Broadbent Arena will feature manufacturer UTV displays and test-drive courses for hands-on evaluation of machine capabilities.
The first-ever ICUEE Live! at Fourth Street Live! Concert offers a fun event to meet up with old and new industry friends in the downtown Louisville Fourth Street Live! dining and entertainment complex. Free to all attendees, the concert will be held Wednesday, October 2, starting at 7 p.m., and will feature music from The Crashers & Soul Circus.
Concert sponsors are Bobcat, Freightliner, Nesco Specialty Rentals and I Make America.
More Food Options and Expanded Exhibit Pavilions
ICUEE is a big show: adding to the convenience options at the show is a new Food Court Patio area, featuring Louisville's most iconic food trucks, with plenty of seating. The area will be conveniently located between the Above Ground Demo Lot (Area L) and the Lift & Haul Demo Lot (Area N).
A new Emerging Technologies Pavilion joins expanded Safety and Fleet Management exhibit pavilions on the indoor show floor. These pavilions help group specific types of exhibitors to make it even easier to spot what's new, making them a "can't miss" feature at ICUEE. 
The show's closing Bourbon, Beer & Bites networking reception for all attendees offers complimentary tastings of the food and beverages of Louisville. The event is Thursday, October 3, from 2 to 3:30 p.m. in the Kentucky Exposition Center North Lobby.
The event is sponsored by Louisville Tourism, Kentucky Exposition Center and Levy Restaurants.
Record Breaker: Largest Ever ICUEE Show
ICUEE 2019 will cover more than 30 acres of the industry's latest technology and equipment, hands-on equipment test drives, and interactive product demonstrations - with more than 240 product categories and more than 200 new exhibitors joining longtime favorites. They're all there to help attendees find the right jobsite solutions.
New and Expanded Education
Take advantage of new and expanded learning opportunities from education on the show floor to interactive crisis-simulation planning:
Disaster-simulation labs with Desi Matel-Anderson, FEMA's first and former Chief Innovation Officer
Field classrooms where instructors are hands-on with equipment on the show floor
Eat and Learn workshops with Tuesday lunch and Wednesday breakfast and lunch
Use the online show planner and show mobile app to make your personalized must-attend show schedule of events. For the latest information, visit The Utility Expo.